By now, most Houstonians are used to seeing the occasional crane in downtown, and even more so in the Texas Medical Center. There is always something being built anew in the Bayou City these days.
But as we enter the latter part of 2014, Downtown construction is about to go from a small group of projects to insane with cranes. This rapid growth, the largest growth spurt seen in Houston since the 1980s, will also have it's fair share of growing pains. As Swamplot reports, traffic can get tricky…
IF YOU'RE wondering what the late-night traffic holdup is in and around Main St. and Texas Ave. over the weekend, here's your explainer: 180 mixing trucks are going to be lining up to pour a continuous stream of concrete onto this site surrounded by Main, Texas, Fannin, and Capitol streets downtown, where D.E. Harvey builders is putting together a little office building — now slated to rise 48 stories — for the Hines CalPERS Green development fund. The action starts at 7 pm on Saturday and should finish up around 3 in the afternoon the next day.
Weekend street closures are just the beginning. If you are a frequent visitor to downtown, start planning some alternate routes now. By the fourth quarter of 2014, downtown should see 15 simultaneous projects (possibly more) entering the high construction phase. That translates to a lot of blocked streets!
The motivation behind the copious construction is in part due to the business community's self-imposed deadline of having a new and different downtown by the 2017 Super Bowl. Hopefully everything can get done by then, but for the meantime, Houstonians are definitely going to notice the changes.
Here are some pictures of the 609 Main construction this weekend, along with a preview of the coming rail stations…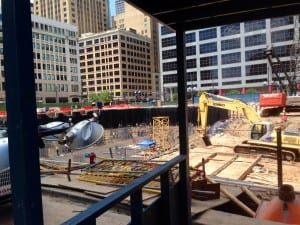 Here is the crane base for 609 Main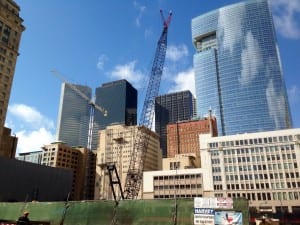 A view of the assembly crane (needed to construct the primary cranes) with a second project crane in the background.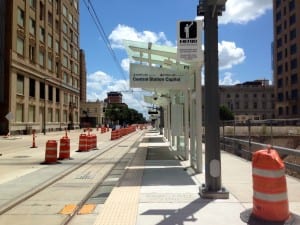 Some projects will be completed this year, like the Houston MetroRail expansion. Here is a view of Central Station for the Green and Purple Line.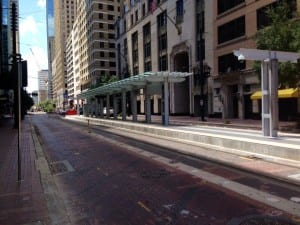 Here is the Main Street portion of Central Station. Houston's new rail transit services should start in December 2014