(Originally posted on June 15th, hackers apparently  deleted this post over the weekend. So it is being reposted, with a very slight title change)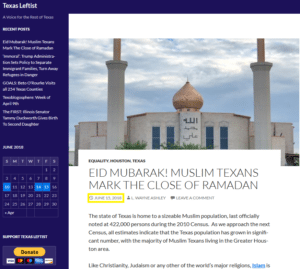 The state of Texas is home to a sizeable Muslim population, last officially noted at 422,000 persons during the 2010 Census.  As we approach the next Census, all estimates indicate that the Texas population has grown in significant number, with the majority of Muslim Texans living in the Greater Houston area.
Like Christianity, Judaism or any other of the world's major religions, Islam is composed of many diverse groups and variations within the religion.  But one major observation that is common for all is the holy month of Ramadan, a month of fasting, prayer and religious traditions.  At the conclusion of Ramadan comes one of Islam's biggest holidays, Eid Al-Fitr.  It is a joyous time where the worldwide community celebrates with family, worship and fellowship.
For Muslim Texans up and down the Gulf Coast, this also marks the first observance of Ramadan and Eid Al-Fitr since Hurricane Harvey.  Many communities were affected, and some even devastated by the storm.  But just as common was the response of Texans answering the call to help those in need.  As the President of the Islamic Society of Greater Houston and former Houston City Council Member M.J. Khan said at the time, helping Houstonians in the wake of Harvey was a "total no-brainer".   So for a host of reasons, this year's holiday is special indeed.
U. S. Senate Candidate Beto O'Rourke, still garnering press for the completion of his trip to all 254 of the state's counties, was also in Houston to mark Eid Festivities  with his fellow Texans.   As expected, Beto and his team live streamed on their way to the event.
To all those who celebrate, Texas Leftist wishes you a most joyous, most blessed Eid Al-Fitr.
Eid Mubarak!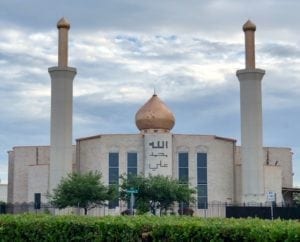 A prominent Mosque in Southwest Houston, one of few in the region flanked by the two small towers, or minarets.  
(if you like this Texas Leftist post, please consider a donation!  Help us encourage Progressive, common sense ideals in the Lone Star State!!)