If there's one thing Harris County voters made clear in 2013, it was this… we don't want to spend public money to save the Astrodome.  And of course "we" meaning a clear majority of Harris County voters who bothered to show up for the 2013 elections.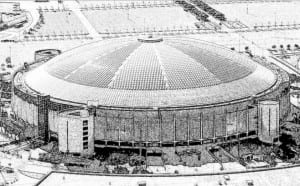 While many around town saw the election result as a clear mandate to tear down the historic structure, at least one person was not ready to throw in the towel.  Thankfully for Houston and Texas, that one person is Harris County Judge Ed Emmett.  After spending months to develop a bold vision for the nearly doomed Dome's future, the Judge and Harris County Commissioner's Court are now ready to reveal the most critical part of the plan… funding.
Here's the report from Gabrielle Banks of the Houston Chronicle…
A few months ago Ed Emmett had a breakthrough moment about how to save the Astrodome, a goal he's been chipping away at for the better part of eight years. The Harris County judge was driving out of the county administration building lot headed straight for the historic 1910 courthouse in downtown, and he thought, "There's a building we completely re-purposed without bond money."

Meanwhile, the Harris County Sports and Convention Corporation was mulling over a 38-page report by the Urban Land Institute outlining details for transforming the Astrodome into an indoor park with 1,200 parking spaces underneath it. What remained unclear was how to fund it.

And that's where Emmett's idea comes in. His plan has now become the blueprint for a public-private partnership overseen by a conservancy that would unite the city, county, the sports and convention corporation and other governmental entities with private investors to revive the Astrodome without requiring voter approval. Under the conservancy model, Emmett said, the Dome would earn tax credits, which would help significantly with covering expenses for renovation.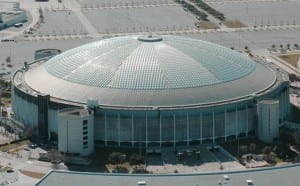 (original photo credit:  the Texas Historical Commission)
So when exactly will the 'Astrodome Park Conservancy' or whatever it is to be called come to fruition?  No one is quite sure, but Commissioner's Court is set to outline more details this week, and hopes to have a firm plan in place by the end of this year.
If this was to ultimately be the venue for saving the Dome, one wonders why we even attempted the "public money" route in the first place.  Maybe Harris County wanted to have more control over the redevelopment process?  But in any case, this is where we are in 2015, and this blogger is thankful that there may finally be a definitive path forward.
Beyond flagship investors like the big corporations one would expect to lead these efforts, let's hope the Conservancy is also open to some small donation funding models (i.e. "buy a brick" investment).  They may not raise the big bucks, but they do tend to encourage participation from the public, foster promotion and tourism of the site and serve as an educational tool teach the importance of historic preservation.
Looking forward to more details on this, and it's great to see a funding model finally materialize.  After 50 years of extraordinary history, the world's first ever domed stadium may still have a bright future ahead.
Here's hoping.