Time to Turn Texas Blue?
It appears that my initial criticisms were a bit premature. Today, much of the news media has been dominated by the roll out of Battleground Texas… a grassroots initiative aimed at making Democrats competitive in the state. Founded by former OFA director Jeremy Bird, the new organization has promised to make a long-term commitment to Texas Democratic causes. Needless to say, this is one Texan that is impressed with today's events.

But what is far from impressive is the continued mythology held by the national media regarding Texas. When I hear commentators on MSNBC talking about the state, it's clear that they are NOT familiar with Texans or Texas politics in the same intimate way that they know Florida, Virginia or New York. Take the classic map that MSNBC's Chuck Todd posted this morning on The Daily Rundown…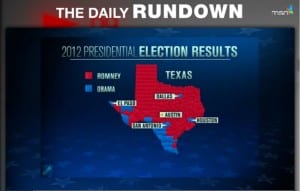 He correctly points out that since 2004, Dallas County and Harris County (Houston) have flipped from a Republican majority to a Democratic majority. But his map suggests that Travis County (Austin) is somehow a red county? No… actually Travis county has been majority Democratic since the 1990s!! If we're going to have a discussion about how Democrats can advance in Texas, it's critical that we start that discussion with an accurate picture of the state. In 2012, 4 of the state's 5 largest counties voted blue, including Travis. It may seem like a small thing, but on a national show, it's important to present factual information.
Another issue continues to pervade national media coverage is the sole focus on demographic (racial) shifts. It's true that the state of Texas is majority-minority, but it's also true that plenty of Hispanic voters (the ones that show up to vote) are solid Reopublicans. But Texas will not go blue on any single statistic, and there's one HUGELY important fact that people do not cover enough.
Not only does Texas have a growing Hispanic and Asian population, but it also has a rapidly-growing URBAN population. The long-held stigma of Texas no longer holds true. The majority of Texans now live in the state's core urban areas… Dallas- Ft. Worth, Houston, Austin, San Antonio and El Paso. As the state continues to condense it's population, it also takes on more characteristics of other large cities around the country. Millions of Americans have moved from all over the country thanks to continued Texas job growth, and as luck would have it, they are also bringing their political beliefs with them. And they're mostly moving to the urban areas. Texas will not become blue by the growth of the Hispanic community alone. But if we can turn blue, it will be due to the confluence of rapid domestic migration AND changing racial demographics. These two trends have to move toward Democrats in tandem, along with an overal increase in voter participation. Groups like Battleground Texas and local organizations have to continue to expose the great travesties that Texans have suffered under Republican governance, like draconian cuts to our state's education funding, and Governor Perry's refusal to expand Medicaid.
Like the rest of the nation, the doors to a blue Texas continue to swing open thanks to the continued failings of the GOP. But if we're going to get there, it is critical for Progressives and the Democratic Party to come to state, talk to voters, and get a better understanding for what's really going on down here. I invite MSNBC to broadcast some shows from the great state of Texas. Come to cities like Austin and Houston, and meet some of your faithful audience members. Show the rest of the nation that when it comes to turning the state blue, Texas Progressives are ready to rodeo.