All summer long, Houston area residents have had the opportunity to learn about Transit System reimagining… the complete restructuring of METRO's local bus network.  If done right, the plan will connect residents to more job centers and points of interest than ever before, while providing a significant improvement in service frequency.  It's an ambitious goal, but the agency believes they are almost ready to remake public transportation in the nation's fourth largest city.
However some parts of the original draft present concerns, particularly converting large swaths of Northeast Houston from fixed route service into FLEX zones… basically a hybrid service between fixed route and METROlift.  This plan has generated some concern from affected community members, and blogs such as Texas Leftist.
But the latest reimagining update shows that METRO is reconsidering the draft proposal on FLEX, based largely on community input. In addition to the original draft, there are now some proposed alternatives to FLEX, including entirely fixed-route options.  Here's a rundown of the new plans, excerpted from METRO's update…
1)  Original Draft Plan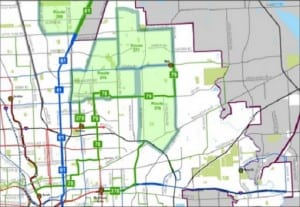 2) Reduced Size Flex Zone

3) Fixed Route Service (optimized for Cost)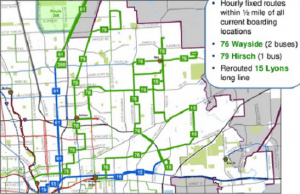 4) Fixed Route Service (optimized for Coverage)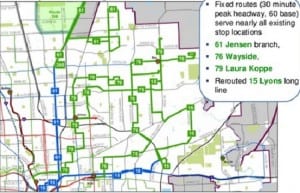 (Excerpts from METRO's full update on reimagining)
First it's really good to see METRO's willingness to incorporate so much of the feedback within their updated presentation. It shows that the agency is truly concerned with giving Houstonians and multi-city residents a system that works best for them.  Secondly, the expanded options give the public a greater ability to choose what works, instead of being forced to adjust to an unfamiliar new system when it is implemented.
METRO also admitted (after this blog's original suggestion) that ridership on the 52 Hirsch north of Mesa Transit Center was high enough to justify the retention of a fixed route.
Given that Northeast residents will be the ones most affected by reimagining, METRO's careful consideration on these plans is needed and appreciated.  Northeast Houston may decide that a FLEX option is what works best for them… they may not.  But at least now they have more information on the matter.  We'll see what is adopted in the final plans, but kudos to METRO for getting this far.