Throughout the summer, the Metropolitan Transit Authority (aka METRO) has been meeting with communities to provide information about the new system reimagining plan. In most cases, the plans have been well-received, and left citizens hopeful that they will see vast improvements in service.
This was certainly the case for a meeting that I attended on July 17th at the Third Ward Multi-Services Center.  Residents mostly listened, and had questions specifically about how the changes would affect their specific travel needs.  Not surprisingly, Flex service was mentioned very little by the METRO representatives, save for questions which I asked after the presentation.  Basically at this point, METRO is not sure how all aspects of the Flex implementation will go.
For starters, there are some questions about the justification for Flex service, especially regarding the 52 Hirsch route.  When combined with its southern counterpart the 52 Scott, this bus service is one of the 10 highest-performing routes in METRO's current system.  52 Scott does indeed have higher ridership than Hirsch, but between FY 2013 and FY 2014, Hirsch's ridership actually increased by 3.6 percent, while Scott decreased 0.9 percent.  For a route in what METRO refers to as "an area of declining ridership", 52 Hirsch is bucking the trend.
Where METRO has seen growth potential with its fixed route services, especially that are already high-ridership, the system reimagining either leaves those routes entirely in place (ex: the 82 becoming the 8), or modifies them with close alternatives centered around major thoroughfares.  But this is simply not the case with the 52 Hirsch… a high ridership route that has been greatly reduced with the Flex system.  Where the 52 Hirsch used to run every 15 to 20 minutes during weekday service, that run time will now be cut back to once an hour.
When I asked the METRO representatives how they could justify such substantial cuts on a high-performing route, they actually questioned their own ridership data about the 52 Hirsch, saying it was probably erroneous due to bus driver entering and exiting the bus at layovers.  Texas Leftist asked METRO board member Christoff Spieler about the disparity via Twitter, but has yet to receive a response.
Beyond the one issue with the 52, it's just important for communities in the Flex areas to understand that their public transit service will change drastically.  What was once predictable, even if sparse fixed route service will now be replaced by this new hybrid system.  To get a visual of how these changes look, I turn to the transit blog HoustonOnTheGo, which has done some stellar work discussing the proposed Flex Zones, and their potential impact on affected areas. These maps originate from HoustonOnTheGo, but were combined them into a side-by-side comparison.  On the left shows bus coverage before reimagining (overlaid with the Flex Zones), and on the right shows coverage under the proposed changes.  Be sure to view the original work, which includes information about all of the Flex Zones.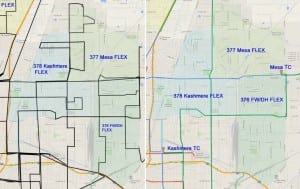 Under system reimagining, fixed route services will be lost.  
In some cases, citizens will now be forced to walk several miles if they want to reach fixed route service in the system, and are must follow procedures similar to the mostly home-bound customers that use MetroLift… a call-in service.
To be fair to METRO, they do distinguish Flex from MetroLift in a couple of very important ways.  First unlike a MetroLift van, Flex vehicles would stay in a relatively small service area, therefore giving them the ability to respond to call-in requests in a much faster time frame.  If a customer requests pick-ups from a Flex driver, they should already be in the area, and therefore available much sooner to provide rides.  Even with this likely scenario, it is still difficult to reason how the Flex call-in service will work with people whose travel needs far outweigh those of a typical MetroLift customer.  If the system gets overwhelmed, does that mean the person just cannot complete their trip at all?
These and other questions still need to be addressed before Flex is implemented.  Let's hope that METRO is doing all it can to see these issues get resolved.