Y'all ready for this Two-Step?   Here's Part 1 in case you missed it.
Along with strong support in the suburbs, The incredible surge of African-American voter turnout also proved to be a big boost for Jones.  Black voters showed up at historic levels to support the Democrat.
But the key here?  It wasn't just turnout in the cities or the suburbs, but Alabama's Black voters in rural counties also voted in force.  More on this from Van Newkirk of The Atlantic…
Exit polls showed that black voters made a big splash. The Washington Post's exit polls indicated that black voters would make up 28 percent of the voters, greater than their 26 percent share of the population, which would be a dramatic turnaround from previous statewide special elections in the South, including a special election for the Sixth District in Georgia, which saw black support for Democratic candidate Jon Ossoff dissipate on Election Day.

As the Cook Political Report editor Dave Wasserman noted on Twitter, turnout was particularly high in the counties with the largest black populations. In Greene County, a small area that is 80 percent black and that Martin Luther King Jr. frequented in his Poor People's Campaign, the turnout reached 78 percent of that of 2016, an incredible mark given that special elections and midterms usually fall far short of general-election marks. Perry County, also an important mostly black site of voting-rights battles of old, turned out at 75 percent of 2016 levels. Dallas County, whose seat is the city of Selma, hit the 74 percent mark. And while the exact numbers aren't in for all of the majority-black or heavily black counties, black voters appear to have favored Jones at rates close to or more than 90 percent.
It's always an unsure proposition to play "identity politics", but for a whole host of reasons, African-Americans have become one of the most reliable, most well-informed and most consistent voting blocks in the nation.  And by and large, they show up to vote for Democrats.  So it should be no surprise that if Black voter turnout is high, it spells trouble for most Republicans.  Remember all of those ultra-stringent Voter ID laws Texas (and Alabama) keep passing?  Yeah they're aimed squarely at weakening the Black vote.
While the recent dogma for Texas Democrats has been to pour all of our resources into a precious few urban centers, 2018 offers an opportunity to branch out and reconnect with voters across the state.  As this week's victory in Alabama shows, there's no better place to start on this journey than with the state's many rural black communities. Thanks to a strong, dedicated organizational network, much of the infrastructure is already in place to reach out to these communities.  But Democrats have to make the first move.  Especially for statewide candidates like those running for U.S. Senate, Governor or Lieutenant Governor, now is the time to build these connections and plan for a true statewide campaign.
In the interest of this issue, Texas Leftist has created a special graphic.  Using data from the 2016 US census estimate and compiled by the Texas Association of Counties' County Information Program, the graphic shows counties which have an African-American population of 10 percent or higher.  Maps like this one could help to reveal additional opportunities for candidates, especially those looking to mount a statewide or State Senate election.  As you can see, there are many strong African-American communities in areas of rural Texas.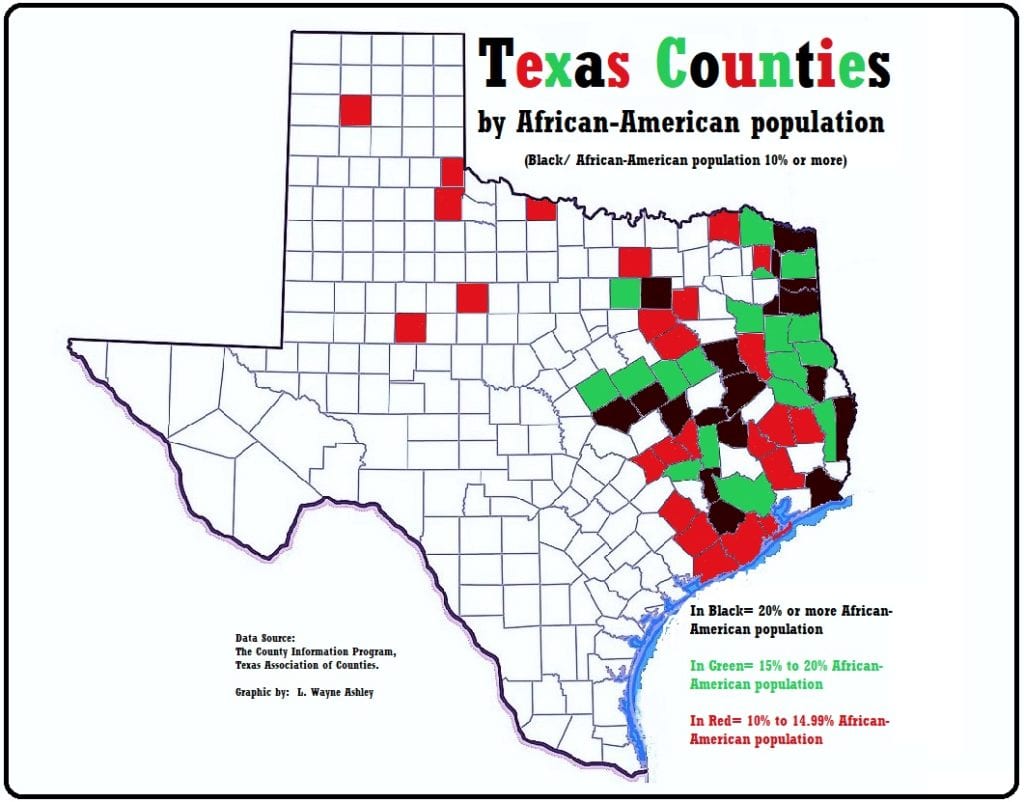 In Black:  Counties with African- American Populations of 20 percent or more…   Anderson, Bell, Bowie, Dallas, Falls, Fort Bend, Gregg, Harrison, Houston, Jefferson, Madison, Marion, Morris, Newton, Robertson, San Augustine, Walker and Waller.  
In Green

:  Counties with African-American Populations of 15 percent to 19.99 percent… Angelina, Camp, Cass, Coryell, Freestone, Grimes, Harris, Jasper, Limestone, McLennan, Nacogdoches, Panola, Red River, Shelby, Smith, Tarrant and Washington. 
In Red

:  Counties with African-American Populations of 10 percent to 14.99 percent… Brazoria, Brazos, Burleson, Cherokee, Childress, Colorado, Cottle, Denton, Ellis, Galveston, Jones, Kaufman, Lamar, Lee, Liberty, Matagorda, Mitchell, Navarro, Polk, Potter, San Jacinto, Titus, Tyler, Wharton and Wichita.  
With information like the above and in the previous post, Democrats and Progressives running for statewide office can better utilize their resources and construct a campaign that reaches beyond the traditional urban strongholds, to voters ready to carry their message forward.
Thankfully some candidates have already gotten the message.  El Paso Congressman Beto O'Rourke, who is challenging Ted Cruz for Texas' seat in the United States Senate, pledged back in April to visit every single one of the massive state's 254 counties.  He's off to an impressive start, having visited 155 counties as of last month.  But even in the case of his trailblazing campaign, information like the above may be of benefit.
So there you have it.  Even days before the new year, 2018 has already gotten very interesting for Texas Democrats.  Let's hope the party can use the momentum to its advantage, and help create a better state for us all.
If you like this Texas Leftist post, please consider a donation.