Texas, meet your New "Riverwalk".  
Last weekend against a backdrop of near perfect weather, the city of Houston cut the ribbon on a years-long project, and a dream come true for Mayor Annise Parker and many others in the city.  The newly-renovated Buffalo Bayou Park made its official debut to the world.  And if initial impressions hold up, it may be on its to becoming a world-class destination.
Here's more on the big reveal from Leo Flores of the Memorial Examiner…
Buffalo Bayou Park is officially opened. After a $58 million renovation, the 160-acre and 2.3 mile green space that stretches along Buffalo Bayou features two pedestrian bridges, a picnic pavilion, one of the city's largest dog parks, a skate park, and children's play area.

The park was made possible through a public and private partnership led by Buffalo Bayou Partnership, The City of Houston Parks Department, Harris County Flood Control District and the Kinder Foundation.

[…]

"As Houston's population grows, so will the desire for the quality of life amenities like parks and green spaces," said Nancy Kinder, president of the Kinder Foundation.

"As a foundation, we saw an opportunity to work collaboratively to develop the urban jewel that is Buffalo Bayou Park, which will be enjoyed by individuals from all parts of the world."

The park's renovation project took just four years to complete, and was open throughout the construction. The vast improvements have taken the park from an empty grassy field to a vibrant green space where families can picnic, exercise, pontoon boat tours and even enjoy live entertainment.
The October 3rd grand opening was actually rescheduled from June 20th, due to the recent Memorial Day flood which heavily affected the park as it neared completion.  But even in that situation, designers were mostly impressed with how well the design coped with the event, and recovered in the weeks that followed.
Not only is the transfiguration gaining attention and envy from our in-state sibling cities, but it's also garnering some national news coverage, especially from the architecture and design community.  
The 2.3 mile stretch represents the first phase in a series of projects, the next of which will focus on the downtown section of the bayou. If you haven't been out to see the new Buffalo Bayou yet, be sure to do so in the coming days.  As of October 3rd's grand opening, users can now rent bicycles, canoes and kayaks at various stations within the park.  Visit the Buffalo Bayou Partnership to learn about all the cool new amenities before you go.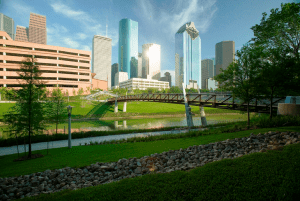 (photo credit:  Jazztour.ru)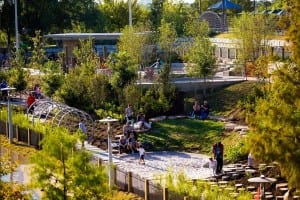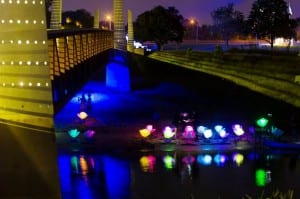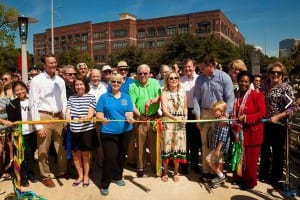 (photos credit:  Buffalo Bayou Partnership facebook)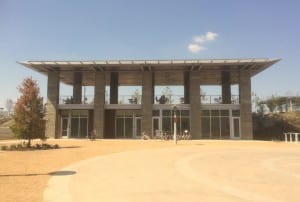 The new Buffalo Bayou Park visitors center is nearing completion, but now open for equipment rentals at Sabine St. and Allen Parkway.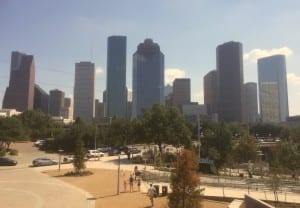 It's also a great place to catch some stunning skyline views before or after a park visit.