What began as an ordinary morning in Houston turned into an ultimate test of inner strength and character for METRO Bus driver Paul Nelson– one that he passed with flying colors.  As KTRK news ABC 13 reports, Mr. Nelson proved himself an incredible hero today…
HOUSTON (KTRK) — 

METRO Houstonbus operator Paul Nelson rescued a badly burned man from a trailer engulfed in flames

this morning in the Heights.We spoke to Nelson, a 17-year veteran of METRO, about what he saw as he rode alone on his route on 19th Street near Shepherd just after 9am.

"I was coming down 19th Street and a lady came running out hollering and crying, said she needed help and I just went back there to see if there was anybody in the house," Nelson said. "I came across a man who was half out of the house, stumbling, bloody, and his shirt had been burned off of him. And I just helped him sit down by the tree."

Nelson said he went back around the house to see if someone else was inside, but said he couldn't go any further because the flames grew overwhelming.

"There wasn't enough time to call 911," Nelson said. "Anybody's doing that much crying, somebody is in there. And that was all I needed to know."

Asked what compelled him to help, Nelson said, "The love of life — for myself and others. That's it."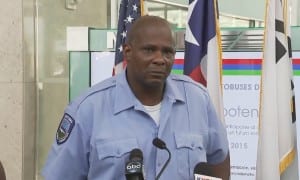 At a press conference later in the day, Nelson appeared humble and thankful, and only wanted to know the condition of the man he had just saved.  Even has he said few words, METRO chairman Gilbert Garcia wanted him to know the importance of his actions.
"You may not think you are a hero, but all of Houston thinks you are a hero."  Garcia said.
Thanks for your bravery Mr. Nelson!!