To say that the 2014-2015 school year has been a dynamic one for the University of Houston is an accurate statement. But the term dynamic barely seems to scratch the surface.  Recent years saw huge improvements in academic standing, with UH ascending to the ranks of UT and Texas A&M as the state's third Tier One public research institution. Since then, the pace of academic achievement and investment has seen rapid growth.
The urban campus, now home to over 40,000 students and the third largest university in Texas, has endured a construction boom that could rival any mid-sized central business district.  UH opened a brand new football stadium at the beginning of the year, and it's only the largest of over 40 major projects completed since 2010. If you've visited the University of Houston in recent years, you may not recognize the school when you come back.
But the building done at the University of Houston has been much more than just physical structures.  President Renu Khator and her team have done meticulous work to transfigure and elevate the University of Houston brand.  From increased visibility to aggressive social media campaigns and a new slogan, UH leaders understand that a truly great university is built with more than bricks and hammers.
This transfiguration hasn't come without controversy.  Just months ago, UH made the headlines for agreeing to pay its celebrity commencement guest Matthew McConaughey a whopping $135,000 speaking fee to appear at the school's first ceremony in TDECU stadium.  The large sum had many questioning Khator and the investment.  Could the university really afford such a high-stakes gamble just to recruit one celebrity speaker?
But if the unofficial motto for Texas is indeed "go big or go home", the University of Houston's big gamble paid off in a very big way.  UH's 2015 commencement received world-wide press coverage which generated over $17 million dollars in earned ad revenue. McConaughey's first ever commencement speech was one of the most talked about of the 2015 season.  This level of national press coverage, particularly for a non-athletic event, is unprecedented in the school's history.
All signs point to 2015-2016 being another big year for UH.  With light rail service now connecting the campus to downtown Houston and the Texas Medical Center, students, faculty and staff now have convenient access to the region's vast economic opportunities.
If 2014-2015 is any indication, it does seem that UH is living up to it's recently re-branded slogan.  The school proved itself a true 'Powerhouse' this year.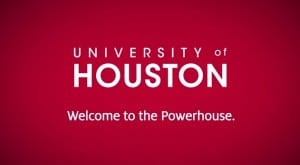 Check out this youtube video recapping the big school year.