So last Friday, I wrote the following regarding then-unknown plans surrounding the new open-door policy between U.S. Congressman John Culberson, and the Metropolitan Transit Authority of Harris County, AKA METRO…
"But let's be clear on what the Congressman did not promise.  If a new vote occurs, rail supporters can be sure that Culberson and his group will do everything in their power to defeat the measure.  The door to funding may have been cracked open, but it is far from a guarantee."
With the details of that plan now released, I am happily prepared to eat those words.  As Katherine Driessen of the Houston Chronicle reports, the new agreement between Culberson and METRO Board Chairman Gilbert Garcia is more significant than most anticipated…
Metropolitan Transit Authority leaders and U.S. Rep. John Culberson on Monday announced details of a new agreement to help the agency move forward with transit projects.

The Houston Republican, who has long been at odds with Metro over its plans for a rail line on Richmond, has agreed to help Metro obtain funds for a proposed commuter rail line on U.S. 90A and other projects. Rail on Richmond west of Shepherd Drive or on Post Oak Boulevard north of
Richmond would be contingent on voter approval.

Culberson lauded the agreement as a "historic breakthrough" in addressing Houston area traffic congestion and rebuilding his fractured relationship with Metro.

"Above all, what today symbolizes is a new era of cooperation between Metro, under Gilbert Garcia's leadership, and the Houston area congressional delegation," Culberson said. "We will all be working arm in arm to make sure that metro and the elected officials in the region solve our transportation problems by looking to every kind of transit and transportation available, beginning with commuter rail out 90A."
It's something that should probably be avoided most of the time, but today, Hyperbole is warranted.  The new understanding between METRO and Houston's Congressional delegation not only fosters new hope for a University Line, but puts Commuter Rail along the US90A corridor on the fast track.  The planned route would connect Houston's inner loop (most likely via the south end of the existing Red Line) to Missouri City.
But wait… there's more!!  Like back-door Federal funding for the East End Rail Line (originally built entirely on local funds) can now be used as "transfer credit" towards the Commuter Rail? Wha huh???  Here's an excerpt from the full letter of agreement between Garcia and Culberson…
Congressman Culberson will begin work right away to change federal law so
that METRO can count $587 Million in local funds spent on the East End Rail Line as the
local matching credit for a commuter rail line along 90A, and secondarily for any non-rail
capital project, or any other project included in the 2003 Referendum. Rail on Richmond
Avenue west of Shepherd Drive or Post Oak Boulevard would only be eligible to utilize these credits once approved in a subsequent referendum.
Also included is another $100 million payday for METRO to improve its bus fleet and transit infrastructure (again some of which is already being done as a result of System Reimagining), and a recoup of funds diverted to the Southeast and North lines that can be put back into general maintenance and improvement projects.
Of course some of this has yet to materialize, but given how Congressman Culberson was the most vocal opponent of previous initiatives, there's little reason to think that all of these plans can't be realized.
All told, today is a great day for transit in Southeast Texas.  And Houstonians have Chairman Gilbert Garcia to thank for it.
Could Culberson's newly-discovered love for transit spread to other Republican Lawmakers, and result in significant new transportation investments nation-wide?  Only time will tell.  But if today is any indication, Obama's "lame duck" period may not be as lame as we once thought.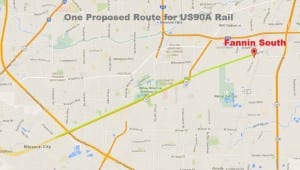 Though not the finalized route plan, here is one proposed route for the US90A Commuter Rail project.