Everyone has moments in their life where we are faced with an immediate choice.  When we witness an injustice, do we speak out at that very moment, or do we shy away and try to make sense of it in our individual way?  Rarely is this inner struggle an easy one.  But whether easy or not for Houston human rights activist and LGBT icon Ray Hill, we do know that he found the courage to speak out, and fight for justice over the course of decades.
Now Ray himself may have referred to this speaking out as a "performance piece" in some circumstances… he was willing to yell, scream, get arrested and perform any type of civil disobedience as needed to draw attention to issues.  But whether performing or not, Hill was known as someone that generated important results.
Over this weekend, the legendary Ray Hill passed away.  From the Houston Chronicle…
Hill, who late in life eschewed leadership roles in activist circles to hone a career as a monologuist — a dramatic undertaking that gained him appreciative audiences in New York, Pennsylvania and New England — died of heart failure in hospice care Saturday. He was 78.

A legend in his own right — and in his own mind — Hill's business card described his profession as "citizen provocateur," a proudly worn label he received from a Supreme Court justice after a long-ago legal battle with the cops.

"I was born to rub the cat hair the wrong direction," he once said.

A rabblerouser, a social gadfly with a sting, Hill made the issues that mattered to him matter to everyone — or at least to those in power. He launched his activist career in 1975 after returning to Houston from a four-year stint in prison for burglary and larceny.

Ever willing to fight the man, at one point Hill bested the City of Houston in the highest court in the land when he got the U.S. Supreme Court to overturn an ordinance that made it illegal to interrupt police officers.
Hill's work continues to have an impact.  Long before the days of cell phone video, Hill fought for the constitutional rights of citizens as they encountered law enforcement.  A case he won against the City of Houston in the Supreme Court not only struck down the city ordinance, but is now used across the nation as more documentation of these interactions are known to the public.  His experience as a prison inmate turned prison reform activist have caused substantive changes in an aspect of Texas that few may understand, but that affects us all.
For decades, Ray Hill showed Houston, the state of Texas, and the entire world the true power of refusing to accept one's contemporary circumstance.  Be it through civil disobedience (and maybe occasionally un-civil), wielding drama or plain old persistence, Hill was willing to work for change when he saw the need for it.  And as a result, he left an indelible influence on a whole generation of Texas activists.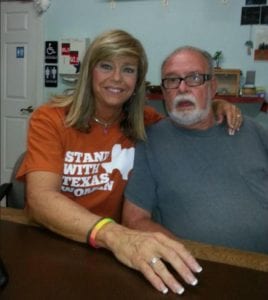 I was fortunate enough to meet Ray Hill on a couple of occasions, but the one I remember most was sitting down with him and fellow activist Jenifer Rene Pool when she was a guest of his on KPFT.  Pool was running for Houston City Council, and I served as her Social Media director at the time.  As they spoke about various topics, the notion of finding one's place came up.  After a moment of back and forth, Hill finally said, "but it's not always about finding your place.  If you can't find it after a while, you better just make it."
And that was Ray Hill, a true Texas original.  Because of his work, many more of us have a place in the conversation.  But that's no excuse to stop making new ones as well.
Thank you Ray.