In it's 70-plus year history, the El Dorado Ballroom in Houston's Third Ward has seen and heard some of the world's most compelling artistry. In it's heyday the venue played host to Musical greats like Arnett Cobb, Etta James and Ray Charles.
But last weekend, the historic ballroom was also the scene for an important meeting on Houston's artistic future, as artists and administrators from across the region gathered there to discuss the City's expansive new Cultural Plan.
Named the Houston Artist Town Hall, the gathering was organized and moderated by the Fresh Arts Coalition, whose Executive Director Jenni Rebecca Stephenson moderated the discussion.  The Town Hall was not an official city event, but Minette Boesel from the Houston Cultural Affairs Office was on hand to hear the discussions.
Though the artists in attendance formed an immensely diverse crowd, they all shared at least two things in common– a dedication to the area's arts scene and intimate knowledge of what could be improved.  As Stephenson noted in her opening comments, the meeting was arranged so artists themselves would have a chance to provide input on the city's Cultural Plan.
Among the group of almost 200 artists, some common themes seemed to emerge…
— Houston needs a more comprehensive jobs and funding database for arts projects. 
— Better access equity for the many diverse arts groups, and artists living outside of a select few neighborhoods. 
— More transparency, less bureaucracy from municipal funding sources. 
— Stronger professional connections between the artists community and corporate entities.
— City Council Members should form Artist advisory boards by district for more direct, consistent input. 
Perennial issues like artist compensation and a lack of affordable housing were big players in the discussion as well.
On the whole, the event was quite productive, and gave voice to important issues that should be part of any Cultural Plan for the city.  But whatever moves forward under the Parker administration at this point is far from a guarantee. Any goals that Mayor Parker sets for Houston's artistic community will be honored, improved upon or destroyed by Houston's next Mayor, City Controller and City Council.  Which means that 2015 is an important time for Houston's creative community to become engaged with this year's elections.  If citizens want the arts to be strong in Houston, they need to show those preferences with their voices and their votes this year.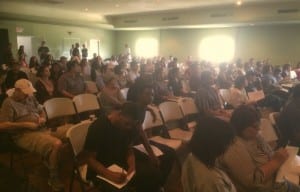 Artists gather at the Houston Artist Town Hall, held May 2nd in the El Dorado Ballroom. 
Houston Public Media's Amy Bishop also covered the event.