Ok Texas Democrats… we've got some work to do.
If you haven't noticed, there is an election for the United States Senate going on, and the GOP candidates are in hot pursuit. Texans can't go 5 minutes without seeing mud-slinging against Ted Cruz or David Dewhurts on their TV and computer screens. Forget the national election… in Texas, their primary is the battle royale. The good news is, most of those ads will stop after the July 31st Primary Runoff is over.
But the Democratic Primary is also going on. Though it may lack the constant bludgening of the GOP side, a very important race is being held between Paul Sadler and Grady Yarbrough. Here's my take.
Texas Leftist wouold like to formally endorse Paul Sadler as the Democratic Candidate for US Senate. He is the only candidate with the experience and acumen to be able to represent Texans, having held elected office as a State Senator from 1993-2001. During his time in the State Legislature, Mr. Sadler worked tirelessly to improve the State's education system, passing 3 teacher pay-raises and public-school employee health insurance. He also has a record of strong bi-partisan leadership having worked with then Governor George W. Bush (Republican) and Lt. Governor Bob Bullock (Democrat) to improve the lives of all Texans. On some of our nation's most pressing issues, Sadler supports the expiration of the Bush tax cuts, and investment in America's children and infrastructure. He supports the Affordable Care Act as law and thinks that Texas should allow the expansion of medicaid so more Texans can recieve quality care. Mr. Sadler also supports full marriage equality, saying that government issuance of marriage should be separate from the rights of religious organizations. "Interfaith marriages, second marriages," he said. "Some religions don't approve of those. We shouldn't be assigning a religious litmus test."
By contrast, Grady Yarbrough has no legislative experience. Though his work as a life-long teacher is certainly commendable, he remains something of a "great unknown" to most Texas Democratic organizations. Most importantly, he has not shown any indication or ability to compete with Dewhurst or Cruz on the state-wide level. Of course any man that garners over 100,000 votes in the Primary election deserves honorable mention.
For these reasons, my full support is going to Paul Sadler. So Democrats, it's time to saddle up, vote in this week's Primary, and get ready for the general election!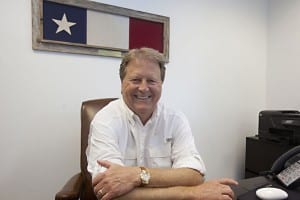 (Photo credit by Jana Birchum of the Austin Chronicle)