As Houstonians spent much of Memorial Day 2015 hearing news of massive flooding to their West, they were mostly untouched for the daylight hours… able to observe the day's solemn ceremonies as planned.
But with nightfall, the Bayou City joined that long list of Texans affected by the state's massive storm, stranding motorists and even claiming lives.  Here's the story from the Houston Chronicle…
At least two people were found dead early Tuesday morning as floodwaters swamped the Houston area following heavy storms overnight.

[…]

Throughout the city motorists woke Tuesday morning to flooded freeways and streets, making the morning commute dangerous and even impossible for most.

The 610 Loop as well as Katy, North and South freeways were underwater in spots throughout the area. Other major roads blocked by high water include Memorial Drive and Allen Parkway near downtown.

Dozens of vehicles were stranded in high water throughout the city. In many cases, the water came up to to the driver's side windows of the abandoned cars, Other vehicles are almost submerged.
The event for Houston caused traffic to snarl across the city, with several major roads taking on water.  As I traveled home on Tuesday morning, I snapped a couple of pictures of a flooded Memorial Drive…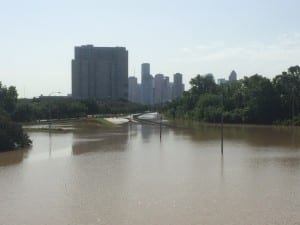 Memorial Drive at Waugh looking towards downtown Houston.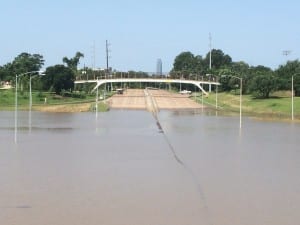 Memorial Drive at Waugh looking towards Memorial Park, with Williams tower in the background.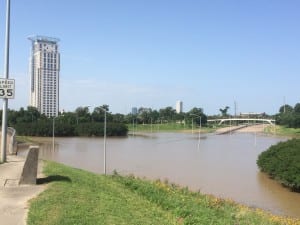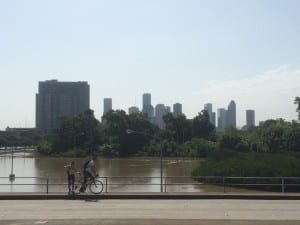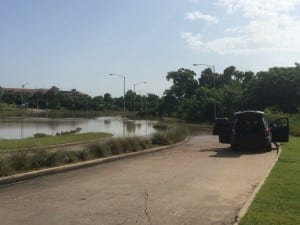 The Eastbound on ramp of Memorial Drive towards Downtown.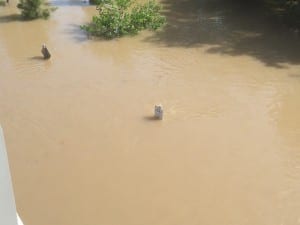 Bike trails on Allen Parkway at Waugh.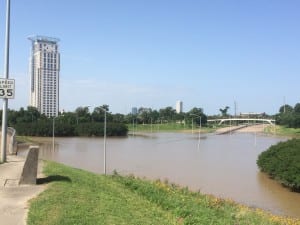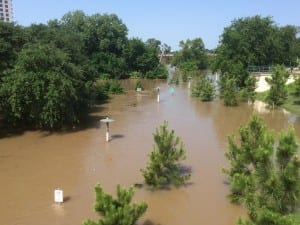 Bike trails on Buffalo Bayou.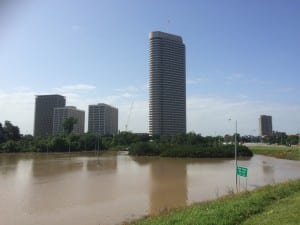 Houston Mayor Annise Parker has petitioned Governor Greg Abbott to declare a state-level disaster for the area, and the Governor is said to be touring Houston later today.  As residents struggle to retrieve flooded cars and assess damage in their homes, these disaster declarations will have an enormous impact on the ability for Texans to receive assistance with these repairs.  Stay tuned for more updates when available.