There's no doubt that the top-to-bottom redesign of Houston's bus system was the result of lots of hard work.  Since its approval last month, System Reimagining has received national media attention, mostly in the form of high praise from transit enthusiasts and critics alike.
But plans on a page are one issue.  Bringing the new bus network into reality is an entirely different animal, particularly in the case of Houston.
Jarrett Walker, the transit guru that led the design team for Reimagining, is not a native Houstonian or even Houston resident.  But from his interview with NPR, and via his blog Human Transit, he seems to have a grasp of the unique issues surrounding Houston mobility…
Houston had it much worse than most cities, for some local reasons.  Along the northeast edge of inner Houston, for example, are some neighborhoods where the population has been shrinking for years.   They aren't like the typical abandoned American inner cities of the late 20th century, where at least there is still a good street grid that can be rebuilt upon.  In the northeast we were looking at essentially rural infrastructure, with no sidewalks and often not even a safe place to walk or stand by the road.  Many homes are isolated in maze-like subdivisions that take a long time for a bus, or pedestrian, to get into and out of.  And as the population is falling, the area is becoming more rural every year.

[…]

Houston's situation is worse than most; less sprawling cities can generally prevent any part of the city from depopulating in the context of overall growth.  But in any city there are going to be less fortunate areas, and the disastrous trend called the "suburbanization of poverty" means that increasing numbers of vulnerable people are forced to live in places that are geometrically hostile to high-ridership transit, and thus demand low-ridership coverage service.
For all of the reasons Walker states, these same impoverished areas are the ones that will be most negatively affected by the System Reimagining plan.  But the challenge for METRO is that these low-density areas also represent a significant portion of the agency's current ridership… residents that are fully reliant on the bus system, and have fewer alternative transit options than those in other parts of the service area. If the new system all but discourages the current ridership base, could Reimagining backfire on METRO??
METRO has placed a tremendous bet on the Greater Houston area… if given the option will people that do not need the bus choose to ride the bus?  It's an question that no one has the answers to at this time.  But judging by current trends across the area, this assumption is not a very safe bet.
To make matters worse, METRO doesn't seem to be taking advantage of critical time they have to educate riders about the new system.  Save for a few vague English-language fliers, the expansive advertising and materials effort for Reimagining has yet to commence.  With the Houston Rodeo now happening in full swing, early March would seem an essential time to get the word out about the redesign, as it is the month where our area experiences its highest MetroRail ridership of the year.  And granted, plenty of riders will be visitors to the city, but many more will be the very people METRO would hope to lure onto new bus service this Fall.
Conversely, the education effort is also behind for affected communities where services are going to change, or be lost altogether.  It will take a massive amount of outreach to citizens in Northeast Houston so that they are informed when these changes occur.  Some citizens have already suggested METRO will be charged with discrimination if these services are cut.
At this point, it's too early to predict how System Reimagining will be received by the Houston region.  But one thing is quite clear. The work of METRO and its partner agencies is just beginning.  Let's hope that work picks up steam very soon.
Off the Kuff has more on System Reimagining.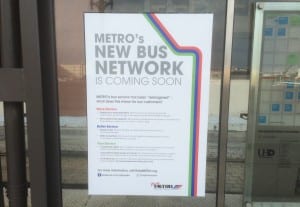 A METRO flyer about the new bus system.