While the rest of the United States has moved forward, the state of Texas, among other stubborn holdouts, has done everything possible to hold on to the past.
The map from the New Hampshire Freedom to Marry, gives a profound visual…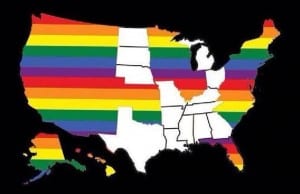 A full 70 percent of the country's citizens now live in states with full marriage equality.  But seeing how quickly national attitudes have shifted, the national group Freedom to Marry has decided to shine more light on this issue in the Lone Star State.  Here's more from the Houston Chronicle…
The national same-sex marriage advocacy group Freedom to Marry will air a series of television ads in Texas this week, with the aim to personalize the issue ahead of an important federal hearing Friday.

The $100,000 TV buy will air Sunday and Monday, just days before the 5th Circuit Court of Appeals in New Orleans is slated to hear arguments in a case challenging Texas' constitutional ban on gay marriage.

The ads, which feature gay and lesbian Texans talking about their desire to marry, will air in eight of Texas' 20 markets including Houston, San Antonio, Dallas, Austin, Beaumont, Corpus Christi, El Paso, Laredo, the Rio Grande Valley, Waco and Wichita Falls.

In the ad slated to run in the Dallas area, Fort Worth Police Officers express their desire that their gay colleague, Chris Gorrie, soon has the ability to marry his partner.

"Texans believe in freedom and liberty, and part of that is being able to marry who you love," Fort Worth Police Department Neighborhood Police Officer Jay Doshi says of his colleague. "So Chris should be able to marry whoever he loves."

"The aim is to show gay Americans are really completely integrated into the fabric of our society," said Mark McKinnon, a former advisor to President George W. Bush and Texas chair of Southerners for the Freedom to Marry. He called the ads an "electronic blanket" to reinforce a recent wave court cases validating LGBT Americans right to marry in other states.
Here's the video of one ad featuring gay and lesbian members of the Ft. Worth police force…
In advance of this Friday's court hearings, the pro-equality ads seem an important step to help further shift the tide of public opinion in Texas.  They may not reach everyone across the state, but if anything they will serve to promote the already growing coalition of Texans who believe in fairness and common sense for all.  They see that not only is marriage equality right for everyone, but it's also smart business for a growing and competitive state economy.  Let's all hope that these ads not only achieve their purpose, but also help to advance the cause of other challenges like LGBT protections in the workplace, housing and public services.  Once marriage rights are settled, the fight for true equality will be far from over.
Off the Kuff has more.