Ask anyone that is more than casually familiar with Houston, and they will tell that it is a city full of surprises.
Whether it's cool public structures like the Gerald D. Hines Waterwall Park, or more exclusive gems like the Villa de Matel Convent, Houston is a city that keeps some of its greatest hidden attractions… hidden.  Long time residents will often discover places or sights that they never knew existed.  Tourists to the city often have to do extensive research if they want to see some of Houston's coolest stuff.  Attractions are often not well advertised and difficult to find for visitors.
Toursim is just one area where the Bayou City has great potential that has yet to be realized.  But the attitude towards tourism, cultural activities and planning in Houston appears to be changing.  City Government has launched a new website, ByYou City:  Houston's Home for Civic Engagement, which is designed to be a central collector for direct ideas that citizens have for cultural improvements.  The leaders receiving the feedback from the site are Rick Lowe and Philamena Baird, tasked by Mayor Annise Parker to create a comprehensive culture plan for the city.
Citizens can post directly to the forum and offer suggestions which may be incorporated into the plan.  Does Houston need more parks?  Better tourism venues?  Improved transit?  If you have a great idea that can make Houston a better city in the future, visit ByYou City and share it with the group.  Your idea could become a part of Houston's future.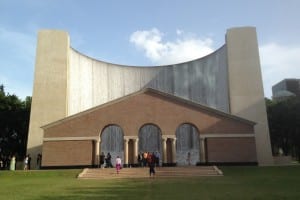 (Photo of the Gerald D. Hines Waterwall Park, a popular Houston Tourist attraction)