Whether young or old, rich or poor, anyone in the city of Houston within the last year or so has at least one shared experience… We've all had to endure massive amounts of residential and commercial construction. At the start of 2015,new construction projects are likely to hit their peak, with many hoping to reach completion before the city hosts the 2017 Super Bowl.
But are all of these fast and furious projects truly warranted?  Paul Takahashi of the Houston Business Journal isn't so sure…
Texas housing markets have remained relatively stable despite a volatile national market. While average home prices nationally grew 38 percent between 2000 to 2006 — before the housing market crash of 2007 — Texas averaged a "comfortable" 18 percent growth. The Lone Star State "remained largely on the sidelines" during the most recent housing bubble, the Fitch report said.

Since the Great Recession however, the Texas economy has been booming, buoyed by the state's strong energy sector. The job growth has attracted thousands of new residents to Texas, fueling the homebuying rush and homebuilding frenzy. Today, the Texas housing market is about 11 percent overvalued, according to Fitch.

However, Texas' current housing boom is "out of character with its price history," and is unsustainable in the long run, said Fitch director and analyst Stefan Hilts.

"What we're most worried about is speculative buying and selling," Hilts said. "People aren't buying houses because they need to; it's because they can. That's causing a big market distortion."
This is not to say that all of the city's construction projects are suddenly unjustified.  The mini-boom of residential and hotel construction in downtown Houston, for example, is not a measure of over-build.  In fact, the CBD is actually playing catch-up to remain competitive with other cities, especially in the Convention and Tourism sectors.
And of course the construction and housing markets, though inextricably linked because most construction is of the residential variety, are not one and the same.  Even if one sector of housing construction were to slow a bit in 2015, it doesn't mean that it will tank the rest of market.  Demand for relocation to urban neighborhoods like downtown and the Galleria is still firmly on the rise.
But the potential trouble, if any, could come in the single family market.  If energy prices continue to drop, job and population growth will eventually feel the effects.  In any scenario, it seems virtually impossible for the area to retain record-high home values, as they have driven both property taxes and rents to levels never seen in the best of previous boom years.  Hopefully, those artificial valuations will be the first to go in 2015, allowing a healthy amount of construction activity to continue.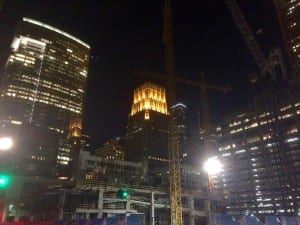 Downtown construction at night

Downtown Houston from the Wells Fargo Tower with cranes visible in the lower right corner.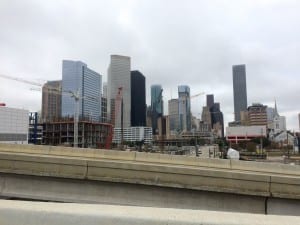 The east side of Downtown is currently dotted with cranes.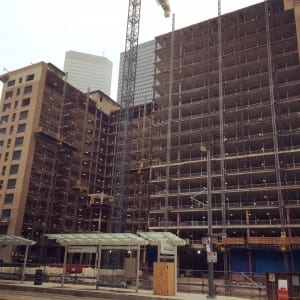 Construction just behind a new rail station in Downtown.  The rail line is set to open in April of 2015.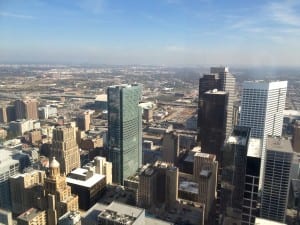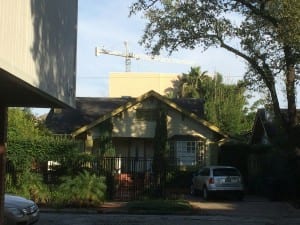 A crane rises above residential houses in the Montrose neighborhood, set to construct a 30-story tower at Montrose and Hawthorne streets.  Due to a lack of comprehensive zoning laws, skyscrapers can be built in virtually any area of Houston.