It's been quite the whirlwind day for GLBT equality, and oddly enough none of the major news was from Washington for once. In the words of the HRC's Chad Griffin, Jason Collins "changed the face of sports forever" by the being the first active American professional athlete to come out as gay. For the movement toward GLBT equality and acceptance, this can only be seen as a major step forward.
Houston was the scene for a similar step forward in GLBT history 3 and 1/2 years ago, when our Mayor Annise Parker, became the first openly gay person to lead a major American city. It was Houston that achieved this milestone, and not only did we do it in Texas (some would say that is a feat to itself), but we did it before the cities that are assumed to be more progressive like Los Angeles, New York or even San Francisco. Which makes today's events in Houston all the more complex. Through the digital magazine CultureMap, the mayor held an "Ask Annise" web event, inviting citizens to ask about any questions they wanted about city issues, and even interesting facts. So I decided to participate, and thankfully the CultureMap staff picked up my question. Here's how it went…
Texas Leftist: During your administration, you've tackled some of our city's toughest issues… Chapter 42, city pensions, etc. and as a result have made tremendous progress. But why has so little been done regarding the LGBT community? With the exception of city government and some other select businesses you can still be fired for being LGBT because we do not have a non-discrimination ordinance for general employment. This lags behind other Texas cities such as Dallas, Austin, and Ft. Worth. When will you work to pass city-wide non-discrimination laws for our city? And even if it weren't to pass council, isn't the conversation worth having for the sake of all Houstonians?
Mayor Annise Parker: The conversation is worth having and as an openly lesbian politician, it is clearly not an issue I'm afraid to tackle, but see the answer above. I am unwilling to bring an issue forward when I know there aren't sufficient votes to pass it. A non-discrimination ordinance would be important, but I am more interested in seeing discrimination removed from our city charter.
The city is prohibited by charter from offering domestic partner benefits or from recognizing the domestic relationships of our gay and lesbian employees. It would require a vote of the citizens to undo. I hope Council will join me in placing it on the ballot at the appropriate time.
I think I understand Mayor Parker's point here… why waste the energy on one contentious issue when there are so many other things that can be done? From a purely political calculus, this type of "playing it safe" approach makes perfect sense.
But the problem here? Equality isn't safe, and it's definitely not supposed to be based on a political calculation. Every day in Houston and throughout much of this country, discrimination continues unabated against our LGBT citizens… people ARE losing their jobs because they are gay. They are getting harrassed at work, beaten up, and for some people, right here in the city of Houston, they are even losing their lives. You don't come out as LGBT in this country to be safe. You don't support LGBT issues to be safe. You come out and you support equality because it's who you are, and who you love.
As a constituent, I have great respect for Mayor Annise Parker. The city of Houston has weathered our nation's economic storms better than any other metropolitan area, in no small part to a thoughtful and responsive city government under her stewardship. She has a not insignificant record on LGBT rights, having appointed Texas' first Transgender judge Phyllis Frye, and is a member of Mayors for the Freedom to Marry. As the top executive of the city, she has extended equal protection rights to all city employees. The Mayor, having suffered so many of these indignities herself, knows what should be done for Houston. And of course, her election in itself was an important turning point in American politics, and brought new elevation to all of Houston's LGBT community.
But as someone that cares about progress throughout Houston, Texas and the whole country, it is not sufficient that we continue to "play it safe". Sometimes progress isn't about the end result… it's about the journey to get there. In what is likely to be her 3rd and final term, I hope Mayor Parker considers taking a different path. Not only for the 2.2 million Houstonians that are depending on her leadership, but all of the Progressive forces that have invested in her current campaign, and her bright political future.
To date, Parker has already received high-profile endorsements from the Victory Fund, the Human Rights Campaign, and many other groups that support full equality.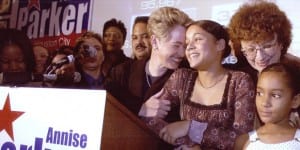 (photo credit: The Dallas Voice)