On Houston's impending Non- Discrimination ordinance, new developments abound…
First,Off the Kuff reminds everyone that it's not out of the ordinary for Council Members to take a cautious approach…
There's been a lot of speculation about who may or may not support the ordinance that Mayor Parker has promised to bring before council. As yet, there is not a draft version of the ordinance, and that seems to be the key to understanding this. As CMs Bradford and Boykins mention to Lone Star Q, without at least a draft you don't know what the specifics are. Maybe it'll be weaker than you want it to be. Maybe it'll be poorly worded and you will be concerned about potential litigation as a result. It's not inconsistent for a Council member to say they support the principle and the idea of the ordinance, but they want to see what it actually says before they can confirm they'll vote for it.
A key point to consider, particularly when trying to gauge the votes of members like Kubosh who have given little indication for why they might be supportive. Which is why it's more important than ever to continue to focus on Mayor Annise Parker, and any clues of what to expect. In her State of the City address, she laid out that the planned ordinance will offer protections to all public employees, housing and businesses with public accommodations. Extending non-discrimination protections to private employment has never been mentioned by the Mayor herself. Given that the only way an ordinance can be proposed is from the Mayor's office, this point is crucial. No matter what the community wants… no matter how many Council Members they call asking if they'd support extensions to private employment, Council won't have the option to vote for a strengthened ordinance if the Mayor doesn't propose it in the first place.
Texas Leftist was able to ask this question of Mayor Parker in a recent interview with News 92 FM. Conducted by JP Pritchard and Lana Hughes, here's how the exchange transpired…
JP Pritchard: From Texas Leftist, In light of recent developments, are you willing to strengthen the planned Non- Discrimination Ordinance to include private employment?

Mayor Parker: I am willing to cover private employment, but this is not about my personal preferences. This is about getting an ordinance that will pass Council and that is defensible with the public, and a repeal effort after that. I'm not going to let the perfect be the enemy of the good. I am interested in having an effective Non- Discrimination ordinance, and if it doesn't go as far as it could the first time around, there is always an opportunity later to fix it.
As you can see, it is again a very political answer. Parker says she's willing, but at the same time it appears she has already decided what will be proposed. This makes me wonder if all of the work trying to sway Council is even worth it if the Mayor isn't movable on the central issue. Is it Council that is unwilling to support a strengthened ordinance, or is it the Mayor?
The only other possibility here? If Parker brings hers as planned, and one of the Council Members submits an amendment to extend protections to private employment. The likelihood of this happening is very slim. There are certainly those at the Council table looking to score some political points against Parker, but I highly doubt this is the issue they would choose. One thing is clear… if Houston wants the best possible Non- Discrimination Ordinance, the buck stops with Parker.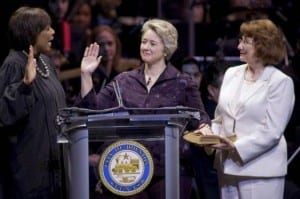 (photo credit: Daily Kos)