Besides the blog and an active Twitter account, I am also an avid consumer (and fan) of HuffPost Live, a new media experience created by Huffington Post. What is best about it in my opinion is the connection that it creates between media "producers"– the host, the guests, the information they present, and the "consumers"– the audience. In the HuffPost Live community, these lines become blurred where the audience joins in the conversation, and becomes a part of the show in real time. Of course many shows have had this format in the past… call-in radio, etc. But with HPL, two things are new and encouraging for this process. For one the content generated is immediately recorded and saved to the website, therefore it can be shared throughout social media as soon as the segment concludes. It's a great way to grow the content and its influence.
Today was a really great discussion with California's Lieutenant Governor (and former San Francisco Mayor) Gavin Newsom. He was discussing his new book, Citizenville, in which he seeks to encourage a new understanding about the role of government in our lives. He talks about how rapidly technology has developed, yet those innovations aren't being utilized to improve and revolutionize how government works.
Watching the conversation, I simply couldn't help but point out one instance in which my local government of Houston, Texas has made a great advancement. The Houston 311 App moves city services (road maintenance, hazordous buildings and lots, etc.) to a smart phone app. This allows not only for instant reporting, but also serves as a "citizen catalog" where these issues are documented for others to see. If I run over a pothole, and stop to report it via the 311 app, I can look up to see if the issue has been reported previously. I can also scroll through to find other local issues, and vote them up or down if I feel they're also important. Though the app has only been out for a few months, it's been working very well. I've even reported one issue that was repaired within a week. It's a great example of the very changes that need to occur throughout the public sector.
As you can see from the clip, segment host Josh Zepps (while interviewing Lt. Gov. Newsom) decided to share my comment about Houston 311…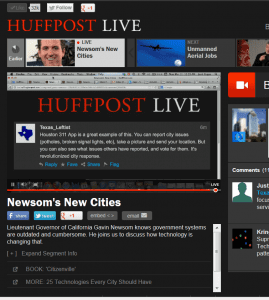 Sure, it may seem like a small thing, but to me and many others who use social media, these are the very steps that we can use to focus media towards more issues that citizens care about. It's a way to amend and expand the national conversation. Oh, and be sure to watch the end of the segment. Lt. Governor Newsom confirms that he is planning to run for Governor of California if Jerry Brown decides to sit out in 2014. Should be an interesting race to watch.