Now that we are 7 months past the historic Supreme Court decision upholding the Affordable Care Act, and 4 months past the historic reelection of President Obama and Democratic control of the Senate, the Lone Star state is still caught in Obamacare limbo. Texas Governor Rick Perry and Republicans are still rejecting the Medicaid expansion under Obamacare. That of course is nothing new. But what is new about the situation? Texans are starting to pay attention.
On Tuesday March 5th in Austin, thousands rallied to support Medicaid expansion, marching up Congress ave to the capitol building. As Chuck Lindell of the Austin American Statesman reports, the concerned citizens came armed with the facts behind the state's desperate situation with Health Care….
"We have the opportunity today, and over the next couple of months, to strengthen something that we know makes a difference in all of our lives," Mimi Garcia with Texas Well and Healthy, a health care advocacy organization, told the crowd.
"Texas Medicaid works," Garcia said, listing beneficiaries that include children, senior citizens and people with disabilities who are able to live in their communities "and the millions of Texans who are waiting for health care coverage."
Fellow Houston blogger Charles Kuffner has written extensively about the emergence of the Arkansas option… a unique compromise that Arkansas Governor Mike Beebe (a Democrat) has worked out with his mostly Republican legislature. It's an offer to still take the dollars from Medicaid expansion, and have the state cover the additional people through the private market. The state would use the insurance exchange to match eligible citizens up with a plan.
I disagree with Mr. Kuffner on this, and I think it would be a bad idea for Texas in the long run. Here's why we need to bite the bullet and just take Medicaid. One reason? Texas is big… a much bigger state and therefore a much bigger problem. Lest we forget, Harris County has more people than the entire state of Arkansas, not to mention more uninsured peoople. Where the Natural State could build an exchange relatively quickly to recruit private plans, the Lone Star State would be… well… ALONE in how massive a problem this would present. Not to mention that Arkansas is already working on it's exhange marketplace, and Texas has yet to even lift a finger for ANY aspect of Obamacare compliance. At 17 percent, Arkansas also has a lower percentage of uninsured people to cover (verses a whopping 26 percent for the state of Texas).
Also the likelihood is that the "Arkansas option" will be more expensive than taking government Medicaid. That expense is compounded even further in Texas because we do so little to regulate private companies to begin with. The state doesn't ask any requirements of the private market saying that certain groups must be covered, nor does it watchdog any prices for insurance plans. A company can openly discriminate and charge much higher rates to at-risk patients. Arkansas doesn't do much, but the does have some bare minimum protections that are better than Texas. My opinion is this… Medicaid isn't perfect, but what it does for the state is set a standard that will affect even private health plans when expanded. Without that floor, millions Texas families continue to fall pray to the "Wild West approach" to health care, and waste even more taxpayer dollars in the process.
This week's rally on the Capitol is a good start, but it's time for Texans to provide swift action to make this Medicaid expansion happen. Democrats, if you're looking for a cause to take up in Texas, this is it. Too many families are waiting on our government to make the right decision for our state. Every day they delay is a day closer to unnecessary health complications, and sometimes personal tragdies. Texas matters… and it's high time that lawmakers be reminded of it.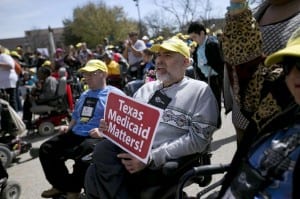 (photo credit: Deborah Cannon from Statesman.com)