Houstonians have a new transportation option.
Zipcar, the very popular car-sharing service, has entered the Houston market. Here's more from the company press release…
BOSTON and HOUSTON, March 26, 2014 Beginning today, 25 Zipcars are available by the hour or by the day for residents, students, businesses and visitors in the city of Houston. Zipcar's revolutionary "wheels when you want them" service offers a wide variety of vehicles, from MINI Coopers to pickup trucks, and includes gas, a reserved parking spot, insurance, and 180 miles per day, making it a great option for those looking for convenient and cost-effective transportation. The launch, which makes Houston the company's 27(th) major metropolitan area, will be supported by a retail office where members can interact with a local team.

Zipcars are parked in prime locations throughout Houston including the Downtown area, Midtown, and Greenway Plaza/Upper Kirby. Zipcar expects to expand the service to additional neighborhoods in the near future. The vehicles are parked in designated parking spots and can be reserved in seconds on Zipcar's mobile app, online or over the phone. Rates start as low as $9 per hour and $73 per day. Membership information is available at www.zipcar.com/houston.

"As the nation's second fastest growing city, and one of most livable, Houston is a perfect fit for Zipcar," said Kaye Ceille, president of Zipcar. "For car owners who are looking to save money by switching to car sharing and other forms of transportation, or for people who don't own a car but need one occasionally, Zipcar's on-demand pay-as-you-go model and variety of vehicles offer the benefits of car ownership without the cost and hassle."

Zipcar's consumer launch builds on its successful program with the city of Houston FleetShare program in which Zipcar technology is embedded in city-owned vehicles, increasing efficiency, accountability and lower overall fleet costs. Zipcar has also offered service to Rice University students on campus since 2009. In addition, the University of Houston and Texas Southern University will be adding Zipcars on and near campus to further provide alternative transportation options to students, faculty and staff. These programs are expected to launch in Fall 2014.

"I want to welcome Zipcar to all of Houston," said Mayor Annise Parker. "This is another major step forward in Houston's ongoing effort to change the way we live and get around the City. Sustainable transportation options offer convenience, are less of a burden on our pocketbooks and also have a big impact on our environment."
This is a most welcome entrant to the Houston market. As more people discover public transportation, cycling and walking, traditional car ownership seems less and less a necessity to get around the Bayou City. Zipcar is a great alternative for those who don't need a car every day, but need more flexibility than renting for a full day or an extended road trip.
Here's hoping that the service catches on. Off the Kuff has more.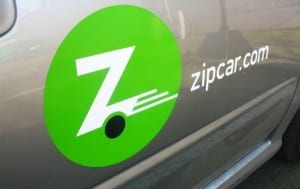 (photo credit: Downtown On The Go)