Maybe Houston's airport saga is a lot like the coming month of March… in like a LION, out like a lamb?
As readers may recall from last year, the biggest news in Houston politics was regarding the bid by Southwest Airlines to expand Hobby into an International Airport, while bearing the FULL cost of the expansion. Once United Airlines (of which Houston's main International Airport IAH is its largest hub) learned of this, the company launched a full-scale campaign to de-rail Southwest's plans. United Airlines mobilized its employees, and warned citizens of massive layoffs at IAH if the Hobby plans were approved. And of course, they immediately threatened 1,300 layoffs as soon as City Council approved the Hobby expansion. Though as some have pointed out, United was likely looking for an excuse to make the job cuts. Layoffs in 2012 are quite suspect when Hobby's new services wouldn't even be online until 2015.
But now that the deeds are done, both Hobby and IAH have continued to operate with little drama since then. And today, the City Council approved not only the authorization of International services at Hobby, but also a continuation and clarification of plans by United to expand Terminal B at IAH!! No cat fighting, and no drama.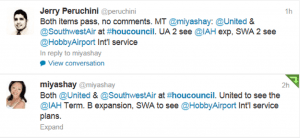 There you go United Airlines… out like a lamb.