It may not be top of mind for most visitors, but the city of Houston and its surrounding region is something of an educational powerhouse.  With nearly 100,000 students in the area's public and private universities, Greater Houston is a regular destination for young adults seeking higher education advancement.
As most can tell by now, interest in the 2018 election is high across the board, including college students, which have traditionally proven to be a less than dependable voting population.  As Sammy G. Allen of
DIVERSE- Issues In Higher Education
reports, that interest has hit a fever pitch for Texas' Historically Black Colleges and Universities, or HBCUs…
The U.S Senate campaign of Robert Francis "Beto" O'Rourke has motivated students at historically Black colleges and universities in Texas, resulting in thousands registering to vote, rallying for the right to vote on campus, and encouraging others to do the same.
O'Rourke, who is an El Paso congressman, has crisscrossed the state, visiting all 254 counties in an effort to unseat incumbent Sen. Ted Cruz, R-Texas. Along the way, he has stopped by numerous community colleges and universities, including four of the state's nine HBCUs.

"The pollsters and political consultants would never tell you to visit Paul Quinn College, Texas Southern University and Prairie View A&M University in the last month of the campaign. With so few days left, with limited time and resources, they would say spending that time with young people is a waste. That's exactly why this campaign doesn't use pollsters or consultants," O'Rourke said. "My campaign is about showing up to every community and not taking anyone for granted."

O'Rourke's platform includes prison and judicial reform, supplying school districts with needed resources and increasing Pell grants for students who want to attend college.
Students at Paul Quinn College in Dallas, and Prairie View A&M (which, as Rachel Maddow pointed out on her show, is in fiercely discriminatory Waller County) will be able to exercise their right to vote between classes on campus, as both institutions will have an on-site Early Voting location, for at least part of the state-sanctioned early vote period.
Sadly, the same cannot be said for Texas' largest historically black university, as Texas Southern University students do not have an Early Voting location on campus.
The very same is true outside of the HBCU sphere.  The University of Houston happens to be the largest institution in the state of Texas that DOES NOT have an Early Voting location on campus.  UH, as well as other system institutions University of Houston- Downtown, University of Houston- Clear Lake and University of Houston- Victoria all lack access to Early Voting on campus.  This is in marked contrast to other similarly-sized schools, like UT-Austin , Texas A&M  and UTSA, which all have at least one Early Voting site right on their campus.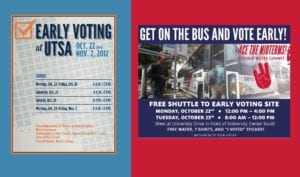 As a reminder, Harris County has a population of 4.6 million people… the third largest county in the United States.  While 46 Early Voting locations may seem copious when compared to other Texas Counties, this year's long lines would suggest that it may be time for the county to consider further expansion of their sites.  For example, Dallas County has 47 Early Voting locations for it's 2.6 million residents, and nine more "temporary locations" employed for the 2nd week of voting.
So if you compare much larger Harris County to our neighbors to the north, you can expect longer lines and a less convenient experience getting to and through the polls, as many Houston area voters have already seen.  Compound that by the continued practice of Harris County Voters having reduced hours for the first week of Early Voting, which can further depress turnout, even if from the inconsistency of hours.
Folks… this is Voter Suppression.  Some may find it more subtle than aggressive Voter ID laws, or downright intimidation.  But restricting hours, limiting voter access of certain populations and having fewer locations in general than the population demands can all serve as a deterrent to voters.  And just let it sink in for a second… the third largest county in the United States doesn't even employ MOBILE Early Voting centers?!?!  Wouldn't this election be the year to start??
All this to say, it's time for the citizens of Harris County to speak out and call attention to these issues.  Yes we MUST vote in the 2018 election.  But while you're waiting in line, it's a perfect time to call or tweet Harris County Clerk Stan Stanart and ask him why Harris County is so far behind when it comes to making Early Voting accessible for all.  This is a problem that can be solved.
DON'T LET THEM SUPPRESS YOUR VOTE!!!