"As we build our city, let us think that we are building forever… " …for a couple of years, enjoying and abusing for a few decades, leaving to rot without a smidge of maintenance and upkeep for a decade, then bulldozing to the ground to make way for ANOTHER hot, crusty gargantuan parking lot (as if there aren't enough here already).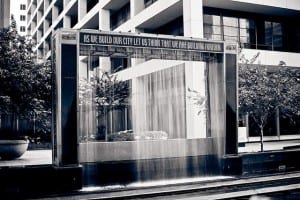 If you don't get the reference, this is the centerpiece sculpture of Main Street Square in Downtown Houston. Despite many pre-election polls to the contrary, Harris County residents displayed their true colors last night, and voted against the proposal to save the Astrodome through raising taxes. The bond measure failed by a decisive 53 percent of the vote. As disappointed as preservationists may be about this decision, I think it's important to realize that voters had very valid concerns with the proposal. 217 million dollars is a lot of money to pay for a plan that was not thoroughly marketed or well understood. Perhaps a rejection will now serve as motivation for the private sector to step up and save the iconic landmark, as Houston Mayor Annise Parker suggested at a recent press conference. But voters did narrowly pass the measure to build a city-county joint processing center, which is a good thing. All Texas state constitutional amendments passed.
And now for the interesting municipal election news…
== Houston Mayor Annise D. Parker was reelected to a third term. It was a decisive victory, with Parker obtaining 57 percent of the vote against 8 challengers. Lead contender Ben Hall, for all of his money and exposure, only garnered 27 percent. This was truly a great night for the Parker campaign, and should be an example worth study for other aspiring Texas politicos.
== City Controller Ronald Green was reelected in a close race to challenger Bill Frazer.
== Some really interesting lessons to learn from the City Council races…
-Of course Council Members Ellen Cohen (C), Dave Martin (E), Ed Gonzalez (H), Mike Laster (J), and Larry Green (K) were all reelected as unopposed candidates. It's tough to imagine how good a feeling it is to not have to stress out about the rigors of campaigning. Must be nice. District A ultimately turned out as expected, with Council Member Helena Brown being forced into a run-off with former Council Member Brenda Stardig. As promising as challengers like Amy Peck and Ron Hale seemed, they were unable to garner much traction with the voters. Prepare for a bitter runoff fight here. Council Member Jerry Davis won a decisive victory in District B. For the District D race, Dwight Boykins' well-financed and well-organized campaign earned him the top finisher in the race, far out-pacing the other candidates. But it wasn't enough to avoid a runoff, where he will face challenger Georgia Provost. Richard Nguyen defeated incumbent Council Member Al Hoang in the District F race. Most political analysts were not expecting that. Some have to wonder if voters were more approving of Nguyen, or if they were just expressing dissatisfaction with Hoang. In District G, Council Member Oliver Pennington was reelected as expected. But District I, on the other hand, was a total fight to the finish. Graci Garces finished slightly ahead of the pack, and a mere 20 votes nudged Robert Gallegos into the runoff over 3rd place Ben Mendez. That's a razor-thin margin if I've ever heard of one.
– In At Large races, Council Members Stephen Costello (1), C.O. Bradford (4) and Jack Christie (5) each handily won reelection, garnering enough votes to comfortably avoid a runoff. But in At Large 2, Council Member Andrew Burks was not so lucky, finishing three percentage points below challenger David W. Robinson. Expect a fierce battle here for the runoff. Perhaps most implicative was the At Large 3 race, where strong Jenifer Pool and Rogene Calvert split the Progressive vote down the middle. This gave just enough room for the race's top two finishers to be Conservatives Michael Kubosh and Roy Morales. Losing Council Member Melissa Noriega's seat to a Conservative will be a true blow to Houston Progressives, though thankfully with Parker at the healm, it shouldn't do too much substantive damage.
I sincerely hope that At Large 3 teaches an important lesson to Houstonians, and Texans as a whole. If Democrats hope to ever gain a foothold in this state, we cannot afford to "Tea Party" our ticket like what was witnessed here. The second that we do, the Republicans will come up and swallow us whole. Even in an assumed "Blue dot" like Houston, we must never forget the red surrounds us on all sides, especially in a light turnout election. Races like this one should serve as even more motivation to the Left that voter registration and turnout has to be job number one. Otherwise, we better just enjoy being a Red State forever.
More analysis will follow soon.