The Texas Progressive Alliance asks if you have voted yet as it brings you this week's roundup.
Off the Kuff compares current and older poll results to evaluate the argument that Texas Democrats should not get too giddy.
Socratic Gadfly calls Mark Miller, the Libertarian candidate for the Texas Railroad Commission, a dangerous alternative, and calls out any and all state-level Democratic fixtures endorsing him instead of Green Martina Salinas over Grady Yarbrough.
Libby Shaw at Daily Kos learned that elections are rigged in a certain way. The rigging is called voter suppression and gerrymandering. Where the Real Rigging Takes Place.
CouldBeTrue of South Texas Chisme wonders why Texas Republicans hate women and children so much. Funerals for miscarriages? Giving tax cuts to corporations while stiffing health care for children.
Turnout in Harris County and across Texas and the country swelled as Americans chose to end the 2016 presidential election as early as humanly possible. PDiddie at Brains and Eggs wrote about his personal experience voting early at one of Houston's heaviest polling places.
Neil at All People Have Value said that if you see a gap, you should fill it in yourself. APHV is part of NeilAquino.com.
================
And here are some posts of interest from other Texas blogs.
Lone Star Ma wants to know what your voting plan is.
Grits for Breakfast despairs over the degraded state of Texas high criminal court elections.
The TSTA Blog calls on Dan Patrick to put his money where his mouth is on special education.
Mimi Marziani argues that Texas still has a long way to go to get it right on voter registration.
Paradise in Hell wonders how many more Republican judges will switch parties.
And Just for Fun…
Via 270 to Win, here's the election prediction for 2016.  While I certainly see a Blue Texas for the future, I'm not sure that it will be happening next week.  Though I would be very happy to be wrong about that, and see Hillary win in a landslide!!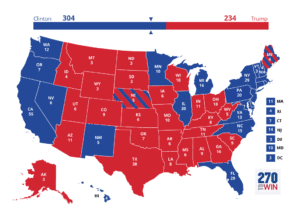 Do you have an Election prediction?  If so, share yours in the comments.