Just before the 2014 Election, I wrote a post about how Texas was inching ever closer to Swing State status. Battleground Texas was hard at work, and as a result, Voter Registration had
reached historic highs
for a mid-term Election Cycle.  Then-Gubernatorial candidate Wendy Davis was hard at work, especially in her home District of Tarrant County, while then- Lt. Gov. candidate
Leticia Van de Putte
was giving impressive stump speeches across the state.    Democrats were hopeful to at least see some Progress.
And then came Election Night.  Any hope from the surge in voter registrations quickly faded, as it was clear that all those
new and infrequent voters just didn't show up
.  With voter participation at historically low levels, Republicans victory swept through the Lone Star State yet again.
But the path to Swing State status never actually changed.
Here's some information from my 
2012 post, 
the original "Operation Think Swing Texas".  Notice that just 6 years ago, even Harris County was not nearly as dependably blue as we've seen in the last few cycles…
Tier 2 we'll consider these "swing" counties. These flipped to vote for Obama by a smaller margin such as Harris (Houston), Jefferson (Beaumont) or Bexar (San Antonio). But you can also consider other counties that held for McCain, but by a rapidly decreasing margin… Hays, Fort Bend, Williamson and Nueces (Corpus Christi). Texas Democrats should work hard to keep Harris county in the blue and try to flip Hays, Williamson or Fort Bend. If one of those were to flip in 2012, it would mark the first time a substantial suburban county went blue. The impact of this could not be understated because it would show that Texas follows the same model as any other swing state… The cities become heavily Democratic, rural areas lean Republican, and the election battle is fought and won in the suburban counties.
It just took a bit longer than some may have expected, but at long last, Texas is finally stepping into Swing State territory.  After seeing an historic number of voters registered (step 1), and then followed up by impressive turnout (steps 2-1,000), the 2018 Texas Electorate has now finally proved a fertile ground for good Democratic candidates.  Thanks to turnout  which was nearly double that of the 2014 contest, any possibility of Republican statewide candidates winning by 20 percentage points was wholly eradicated.
Perhaps most telling were the dramatic shifts in voter preference for the big urban and suburban county populations.  Here's more on that from Alexa Ura, Chris Essig and Darla Cameron of the
Texas Tribune
…
Counties that haven't voted for a Democrat in decades turned out for Beto O'Rourke in his unsuccessful bid to unseat U.S. Sen. Ted Cruz, and he picked up enough support in ruby red Republican counties to force Cruz into single-digit wins.

It could all be a blip — a year of Democratic enthusiasm spurred by a shiny candidate or vitriol toward President Donald Trump. But with margins narrowing over time in some of the GOP's longtime strongholds, Tuesday night's results suggest that the Republican firewall in the suburbs could be cracking.

In Central Texas, O'Rourke broke the electoral status quo in Hays and Williamson counties, rapidly growing bedroom communities taking in new — likely liberal — residents from Austin.

Hays County, home to Texas State University, hadn't voted for Democrats at the top of the ticket since 1992. But Republicans' control of one of the fastest-growing counties in the country has been weakening for years. Last night's results indicate the county is trending blue. It swung hard toward the Democrats, giving O'Rourke a 15.3 point margin and narrowly opting for Gov. Greg Abbott's Democratic challenger Lupe Valdez despite the 9-point margin of victory Abbott claimed over Democrat Wendy Davis in 2014.

The flip to blue was less all-encompassing in Williamson County. O'Rourke claimed a 2.8 margin of victory, which was notable given how Republicans have long maintained a strong advantage there. Abbott easily held onto the county, but another statewide Republican — Attorney General Ken Paxton — lost there.
From Central Texas gaining blue ground, to the second time Fort Bend County managed to flip in Southeast Texas, to Tarrant County, for the first time in decades, joining the Light Blue club in North Texas… well, let's just say the Cruz-O'Rourke map looked mighty similar to what Texas Leftist postulated 4 years prior…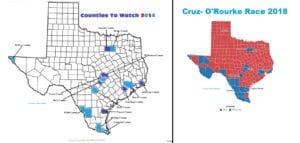 Knowing that rural voters would continue to lean heavily Republican, and urban voters would become more Democratic, the fight for Texas would eventually come down to the suburban counties. 2018 proved that to be absolutely true. Beto won every single county that he would've needed to garner victory, he just didn't win them by quite a large enough margin. With HIGHER VOTER TURNOUT in any number of the state's largest counties, or simply closer margins in some of the suburban areas, Texas could easily be celebrating a Senator O'Rourke, an Attorney General Nelson, and even an Ag. Commissioner Olson. 
The answer, as always is HIGHER VOTER TURNOUT…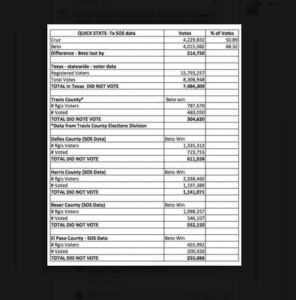 So no statewide races just yet, but some important victories just the same and encouraging movement for the future.  Welcome to Texas– Swing State style.