In February of 2016, It's no surprise that the political world is at a frenzy right now.  But what is different for those in the University of Houston community?  That frenzy has taken over the campus this week.  Set for Thursday, February 25th, the Republican Party's 'Super Tuesday' Debate will be held at UH's Moores Opera House. Even before the candidates arrive, the debate has caused a firestorm across Houston as party faithful, students and media all try to land coveted tickets into the 800-seat venue.  With the race cut down from an historic 17 candidates to just 5 remaining, this week's debate could prove a pivotal turning point in the GOP contest.
So the Republican candidates we be at the University of Houston.  But, will the candidates have an opportunity to actually see the University of Houston?  If so, maybe they would be quite surprised by what is going on around them.  The institution is much more than a stage… it's a window into America's future.
Perhaps they would see that, as the Number 2 most racially/ethnically diverse university in the nation, people of different races, ethnicities, backgrounds and faiths really can live, work and play together without fear or suspicion of what they don't always understand.  Maybe, instead of calling for a wall on our Southern border, or a ban of all Muslims into the country, they would see that diversity forms an important asset to the UH community.
Perhaps they would see an institution that not only educates, but supports undocumented students and families.  One that believes "all Texas high school graduates should enjoy equal access to our state universities and the opportunity to obtain a college education, becoming better informed and more productive contributors to our community,".
Maybe they would even see a campus that not only supports the LGBT community, but stands up for full equality even when it's not convenient.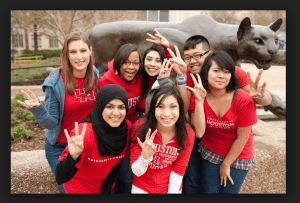 Make no mistake… it's a distinct honor for UH to become just the third site in Texas to host any form of Presidential debate.  But even better would be if the university's value could have some role as well.
In any event, Texas will be watching.