It was a promise that Mayor Annise Parker made to Houstonians in 2013.  And on February 23rd of this year, that promise was fulfilled, as the city of Houston has now officially tested its backlog of over 6,600 rape kits.  Here's more from the AP press release (via ABC News)…
Evidence from more than 6,600 rape kits that went untested for years in Houston have turned up 850 hits in the FBI's nationwide database of DNA profiles, marking a major step in the city's $6 million effort to address the backlog, officials announced Monday.

Charges have been filed against 29 people, six of whom have been convicted, since the city launched an effort in 2013 to test 6,663 rape kits — some of which dated back nearly three decades. Testing was completed in the fall, and the results have now been uploaded to a database used by investigators nationwide to compare DNA profiles of possible suspects, Mayor Annise Parker said.

"This milestone is of special importance to rape survivors and their families and friends because it means their cases are receiving the attention they should have years ago," Parker said at a news conference, where she joined local law enforcement officials to announce the results.

Police are continuing to review the matches to see if charges can be filed in other cases. In the cases where prosecutors have won convictions, defendants have received sentences ranging from 2 to 45 years in prison. One case was dismissed after the victim decided not to pursue the case.
Even with the extraordinary lag time in cases, hard work done by the city of Houston in this matter helps to grow the national database of harmful criminal activity, and has already helped to take some dangerous people off of our nation's streets.  As Mayor Parker has proven, this is important work that needs to be done.
So the question for other cities remains… why hasn't this been done yet??
While we can champion the hard work done in Houston, the rape kit backlog is still a major problem across the country.  As MSNBC host Ronan Farrow discovered in one of his last shows on the network, cities across the US are having a major problem getting these rape kits tested.  Without the DNA evidence, that means that thousands of criminals are walking the streets.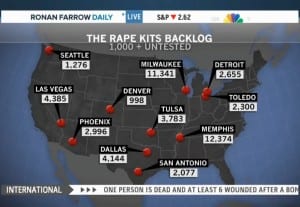 (Photo credit:  Ronan Farrow Daily)
Washington and Austin both spend a lot of time arguing over border security. Everyone seems to be incredibly concerned about people coming to this country illegally.  But where is the concern for criminals that are already here??  Are the testing of these rape kits not just as important as what is going on at the Border?  It's a question that needs to be asked, and at least for Houston, we now have an answer.
Off the Kuff has more.