Today history is made in the state of Texas, as the first same-sex couple is officially granted a marriage license.  Here's the scoop from the Austin-American Statesman…
Two Austin women were legally married Thursday morning after a Travis County judge ordered the county clerk to issue a marriage license.

Sarah Goodfriend and Suzanne Bryant, together almost 31 years, said their vows before Rabbi Kerry Baker while standing in front of the Travis County Clerk's Office sign on Airport Boulevard.

The couple was denied a license in the same office building eight years ago.

But on Thursday morning, state District Judge David Wahlberg, petitioned by a lawyer for Goodfriend and Bryant, ordered Travis County Clerk Dana DeBeauvoir to grant the couple a marriage license.

The ceremony was a mix of personal – with friends and their teenage daughters, Dawn and Ting, standing nearby – and public statement, with photos of their vows in front of the county sign.
The license was granted in the wake of earlier events this week, as Travis County Judge Guy Herman issued a ruling striking down the state marriage ban in the county, calling it a violation of Equal Protection rights under the U.S. Constitution.
At present, the marriage of Goodfriend and Bryant is no guarantee that other couples can get married just yet.  Travis County Clerk Dana DeBeauvoir stated that her office issued the marriage license solely in compliance with this specific court order.  But this is of course still an historic event for the Lone Star State, however it happened.  More petitions and legal challenges are sure to follow.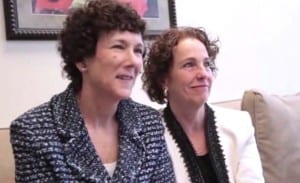 (photo credit:  Statesman Video)