Houston City Council Member Brenda Stardig has finally revealed how she plans to vote on the proposed Equal Rights ordinance. In a District A newsletter, here's what she said about the proposed ordinance…
Thank you for your recent email about the proposed equal rights ordinance.  While most Houstonians and I agree that discrimination of any kind is wrong, this proposed ordinance does nothing more than duplicate existing laws, add bureaucracy, and highlight the city's endless overstepping of their jurisdiction.

The real question is not whether or not someone should be discriminated against. The real question is: What is the proper role of municipal government?  Cities are created to provide basic services such as water, sewer, fire and police protection, and infrastructure.  Cities are not created to govern comprehensive issues like discrimination.  We have different levels of government for a reason, and it is imperative that each level does not exceed their jurisdiction.

If passed, this ordinance would create a new bureaucracy for the city to address discrimination complaints.  Houston would have to expand government to handle the same issues already funded for and overseen by the state and federal government.  It is incomprehensible to me how the city can waste our time and your tax dollars to duplicate these services.  There are still pot holes, road repairs, and additional police and fire needs to which your city tax dollars should be allocated.

Cities should stick to what they were created to do. I was elected to represent my district on city matters, and I will not stand for the city overstepping their authority.

Sincerely,

Brenda Stardig

Houston City Council Member, District A
It's not exactly a surprise that Stardig would choose to vote against the ordinance.  After all, she did just reclaim her seat from Fringe-Right phenomenon Helena Brown. But of all the issues for Stardig to choose to prove her 'Conservative' bonafides, this is a choice that could ultimately come back to haunt her. Groups like the Log Cabin Republicans of Houston, which endorsed the Council Member and were some of her strongest supporters and campaign volunteers in the 2013 election against Brown, are reconsidering those actions now.  Here's what the organization had to say in a press release…
The Log Cabin Republicans was shocked and saddened to hear about Council Member Stardig's statement of opposition to the proposed Equal Rights Ordinance. The ordinance, which would prohibit discrimination on the basis of sexual orientation and gender identity, is a fair minded and solid proposal.

Council Member Stardig's recent statement of opposition is based on the falsehood that these protections already exist in federal law. As it stands any Houstonian can be fired for no other reason than being gay, lesbian, bisexual, or transgender.

It saddens us that despite receiving our endorsement, hearing the stories of those who have faced discrimination, and telling us that she did not believe in discrimination, Council Member Stardig has stood up for the right to discriminate.

We call on Council Member Stardig to reconsider her opposition which stands on the wrong side of history and equality.
Stardig's decision may seem sensible in the short-term, but it's a foregone conclusion that equality is supported by young adults across the political spectrum.  From ultra Liberal to staunch Conservative, they believe in the rights of anyone to be protected from discrimination, and have the same opportunities as anyone else.  As more Millennials become regular members of the voting citizenry, politicians should consider carefully how they treat these issues.  This will be a campaign issue for Brenda Stardig.
For more on this and other NDO developments, check out coverage from Texpatriate and Off the Kuff.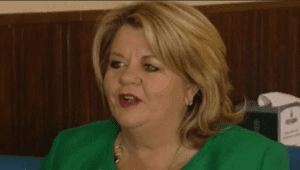 (photo credit:  ABC 13)