The Texas Progressive Alliance knows that no one has a constitutional right to be a County Clerk as it brings you this week's roundup.
Off the Kuff takes a look at the very high stakes of the voter ID appeal.
Libby Shaw at Texas Kaos and contributing to Daily Kos asks why the U.S. cannot have high speed rail that is common in Europe and Asia? Why? The do-nothing GOP, of course. Republican Are Why We Can't Have Nice Things.
Socratic Gadfly, linking to the first piece he has written for an in-depth philosophy and social sciences webzine, explores the parallels between Constitutional originalism and religious fundamentalism.
The best debate in the Houston mayoral contest happened last Thursday night, and PDiddie at Brains and Eggs blogged about it.
Texas Leftist agrees with President Obama… the economic future of the United States may soon be inextricably linked to the world's next great power player. Here's why it's time for Texas to take a new look at Africa. Plus some coverage as the Houston Unites Campaign kicks into high gear.
From WCNews at Eye on Williamson. The Texas GOP has a problem with health care. They hate it and it shows, Common Sense Conservatism Is Bad For Your Health.
Neil at All People Have Value was glad to see outreach by the Harris County Green Party on Labor Day. APHV is part of NeilAquino.com.
==================
And here are some posts of interest from other Texas blogs.
Juanita unloads on Houston Mayoral candidate Ben Hall.
Grits for Breakfast calls out Dan Patrick for misleading and incendiary rhetoric about crime and the police.
The TSTA Blog rebuts a Wall Street Journel op-ed on the recent SCOTUS charter school ruling.
Liz Goulding looks back on three years of being a one-car household.
The Bloggess celebrated World Suicide Prevention Day.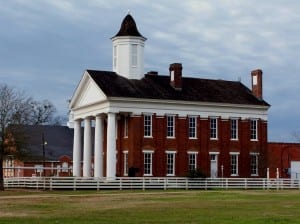 Today's feature photo is of the Old University Building in Nacogdoches, Texas.  Built in 1859, the structure was the main hub  of Nacogdoches University— the first public higher education institution established by the Republic of Texas in 1845.  Photo credit:  City of Nacogdoches.