It's been a long time coming, but Houston METRO finally reached the big day.  Dug Begley of the Houston Chronicle has the scoop…
After years of construction and months of testing, riders began boarding Green Line trains headed from downtown east along Harrisburg and Purple Line trains toward the University of Houston and Palm Center Transit Center on Saturday morning.

The dual openings mark the end of a sometimes controversial six years for Metropolitan Transit Authority, which first approached voters and won approval for the lines in 2003, with the hopes of opening them in 2012. Numerous delays and setbacks pushed opening day farther away from those original plans, as anticipation grew in the neighborhoods.

With the lines open and shuttling thousands of people around, the communities turned out for various celebrations, where Metro and residents celebrated the end of construction and the beginning of what is predicted to be a major change in how people get around, especially those more dependent on transit for daily trips.
With new lines in service, Houston's light rail transit system increases from 12.5 miles to 23 miles. Here's the new rail system map, from the METRO website…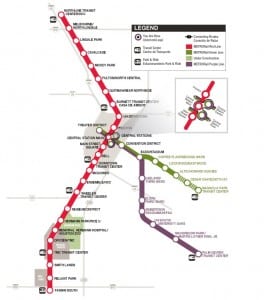 Its tough to assume how the community will ultimately adopt the new transit, but from yesterday's opening, METRO's Southeast and East End Lines seem off to a very good start.  I was able to ride the Purple Line on its inaugural, and took some pictures of the experience..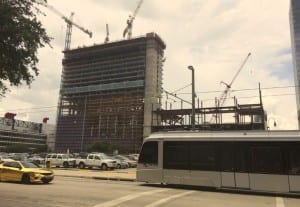 A new Metro railcar as it passes by the construction site for Houston's Marriott Marquis, a 1000 room hotel slated to open next year.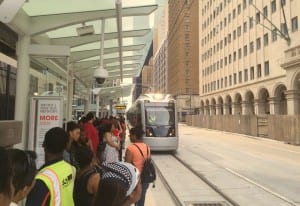 A packed group of patrons wait at the Central Station platform, as a train approaches.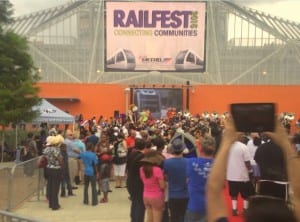 Houston METRO celebrated with a concert at the BBVA Compass soccer stadium.  With the opening of the Purple and Green Lines, every major sporting facility in Houston is connected by light rail to the City Center, and the Texas Medical Center.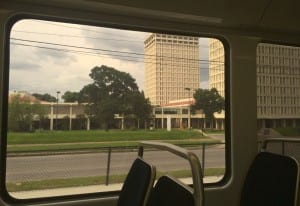 A Purple Line train rides along it's new route on the University of Houston campus.  The new lines now connect Houston's four largest 4-year educational institutions– UH, Texas Southern University, Rice University and the University of Houston Downtown– as well as various campuses of Houston Community College.  Students have access to new career and internship opportunities.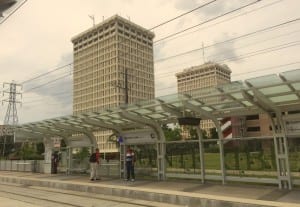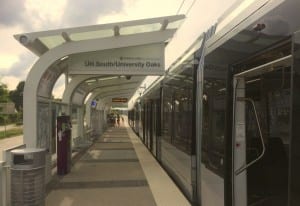 Places most likely to see immediate benefit are the 50,000 students that attend the University of Houston and Texas Southern University.  For those that already commute via METRO, the new lines give them a direct route to downtown, and decrease travel time for their overall trip.  Once classes are back in session, it will be interesting to see how students utilize these lines.