There's no way around it.  This month's election results were tough for Democrats across the country.  But given how much hype was heaped on this year's races in Texas, and how much attention was generated by candidates like Wendy Davis, the typical drubbing had an especially difficult sting in the Lone Star State.  So many people registered, yet so few of them voted.  So many block walks and phone calls for such disappointing results.
It was this painful reality which set the mood for this week's special meeting in Houston.  On a very cold evening, volunteers from Harris, Galveston, Brazoria, Montgomery and Fort Bend Counties gathered at a Union Hall southeast of downtown to find out what happened, and what lies ahead for Battleground Texas.
Attendees were greeted by BGTX Executive Director Jenn Brown and several top-level staff members from the organization.  Brown started the meeting with a sincere thank you to all for the hard work, and acknowledged that the results clearly didn't go the way they intended.
Then there were presentations from team members Victoria Zyp and Ramsey Reid which discussed preliminary post-mortem data from the election.  They shared some of the figures which they considered to be successes from 2014.  Chief among them were the impressive volunteer base that BGTX was able to form, and the number of new voters that were registered.
"Of the new voters that were registered in Texas this cycle, 67 percent of them had never registered  before.  We had huge success in registering voters under the age of 24."  said Campaigns Director Ramsey Reid.  During their presentations, we mostly learned about the organization's bright spots.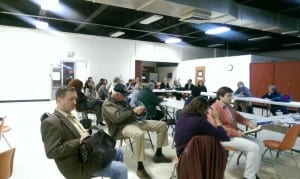 Volunteers gather in Houston to hear from BGTX staff members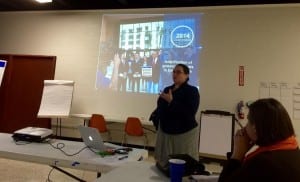 BGTX Field Director Victoria Zyp shares post-election information.
But the tough work… figuring out what went wrong, was seemingly left to attendees to decipher.  To no surprise, they had a lot of input.
"The biggest issues originated from the top down, not at the volunteer level.  Why didn't you all partner with the county parties and local organizations to see what works in Texas?" said one man from west Houston.
Another volunteer from Central Houston noticed inconsistencies with BGTX's internal data.
"From the GOTV training, I was led to believe that we would be contacting more of the infrequent voters… that was supposed to be our 'GOTV universe'.  So why is it when I look at the list, I see names of people who vote in every election, including my own, and even elected officials?  They are not infrequent voters."  said the volunteer and Montrose resident.
To their credit, BGTX staff members were there, and they did listen. They reiterated that this was just the first step in a full post-mortem analysis, and that information from the debrief would be sent out to all in attendance.  They also sought suggestions for upcoming events in 2015 and how they could get involved.
The statewide debriefs are an important first step.  It was important that Jenn Brown and other senior leadership be in attendance to hear directly from Texans on how to proceed for into the next election cycle, because that is the only way this organization can truly improve.  Let's sincerely hope that as the higher-ups are reaching out to their own group, they are also working to strengthen relationships with the Texas Democratic Party, county Parties and existing local groups.  As learned from this cycle, a coordinated effort is what is needed above all else.
Volunteers came to the debrief seeking answers, and although they didn't get as many as they would have liked, they at least received a firm commitment that BGTX is ready to listen, willing to learn and able to move forward.  From the meeting, volunteers are still left with some questions, but should have much hope for the future of Battleground Texas.