The sound was at once unforgettable.  So loud, so HIGH!! If you've ever heard the sound of a gaggle of young girls shrieking for their favorite boy band, you'll get pretty close to what was heard. But take those same screams, and add the weight of purpose, the energy of determination and the urgency of concerns.
Crowd size estimates are in the neighborhood of 15,000 for Downtown Houston alone, which didn't include numbers from marches in the Heights, Sugar Land, The Woodlands, and other areas of Southeast Texas.  But wherever they where, those distinguished sounds were one and the same.  The shrieking sound of a crowd full of teenagers is not something one can easily forget.  And make no mistake about it… the March For  Our Lives in Houston was composed of and led by young people.  In fact, high school students were probably the median age for the crowd, as many younger children were out in full force marching to support their families, elder siblings, and of course, their own rights to go to a safe school.
And if thousands of young people can lead this movement in Houston, Texas, there shouldn't be any doubt who led these marches across the country.
Sorry NRA TV, but you got this one totally wrong.  If y'all had been there… if you could have heard the yells, the shrieking of that crowd, this wouldn't even been a question.
In Houston, local politicians like Mayor Sylvester Turner, Congresswoman Sheila Jackson-Lee, Houston Police Chief Art Acevedo not only attended the March, but at one point the took the front line to show full solidarity with the movement. Mayor Turner also announced the creation of a new Commission to End Gun Violence, which will focus on local research and solutions. So even in Houston, the March For Our Lives movement has already yielded substantive results.
As for what lies ahead for this new movement?  We'll know soon enough. But as for March 24th, the history for that day has been made loud, clear, and HIGH.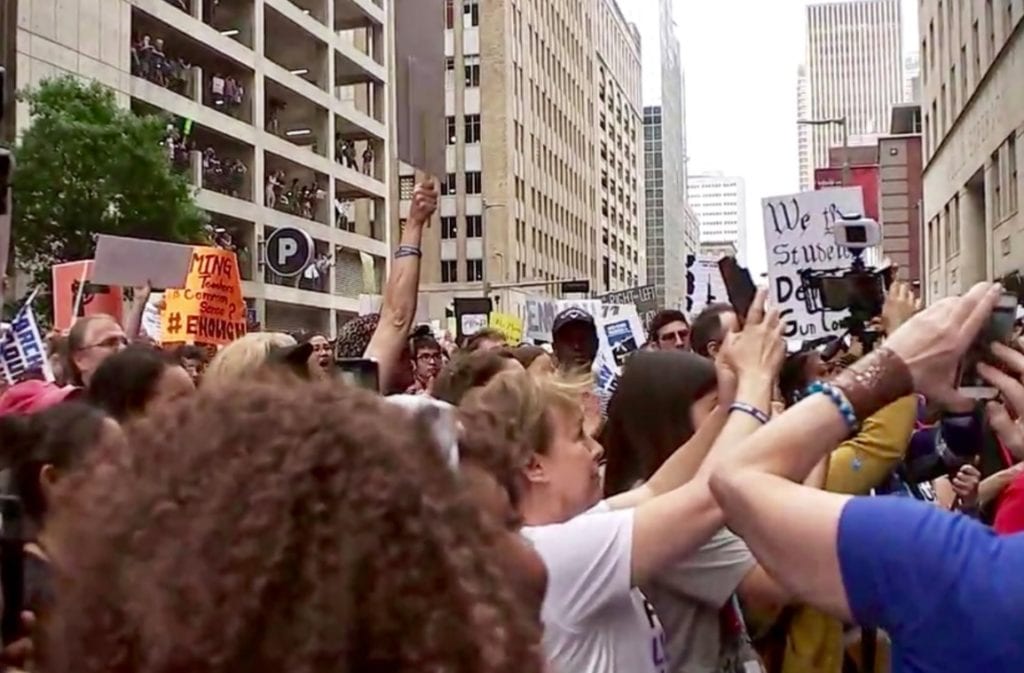 The March For Our Lives rally in Downtown Houston, near the office of Texas Senator Ted Cruz.  The Senator did not attend any March For Our Lives Events.