We've said it before on this blog, but Texas is *not* a 'Red State'.
Its a Non-Voting State.
If even a simple majority percentage of eligible voters in the Lone Star State actually decided to show up and vote, the political structure of Texas would look very different than it does today.  At least, that's the theory.
So for 2018, we must ask once again. Will November 6th finally reveal a new, BLUE Texas?
We're still not sure.  But what we do know is that Texas Voters, so far, are already bucking the trends from previous elections.  Here's more on that from Ryan Ordmandy of KLTV News East Texas…
NACOGDOCHES, TX (KTRE) – Almost 16 million Texans are registered to vote in the upcoming midterm election. East Texas elections administrators say they've seen a sharp increase.

"There's definitely a lot of excitement in the air and a lot of people have gotten registered to vote," said Todd Stallings, the Nacogdoches County elections administrator.

That excitement is state-wide. This year, the Texas secretary of state reports that almost 16 million Texans are registered to vote this fall, 1.6 million more than the previous mid-term election in 2014.

"What we're seeing this time is a lot more like a presidential election than a midterm election," Stallings said. "It's pretty phenomenal for a midterm year for the numbers to be going as high as they are. We broke the record here in Nacogdoches County for our voter registration. We've gone from about 35,000 in 2016 to 37,000 now."
It's a significant leap for Nacogdoches County, as well as across the entire state. Per Texas Tribune reporter AlexaUra, last count saw the state's voter registration soaring to historic heights for a Mid-Term Election. The difference in registrants actually on par with Presidential election years, like 2012.  From the Texas Secretary Of State's Office, here's the data…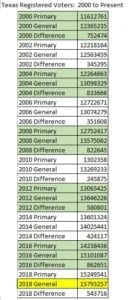 Texas Registered Voters For Primary Season, the General Election, and the difference between them from 2000 to 2018 (the final official number for 2018 is still pending.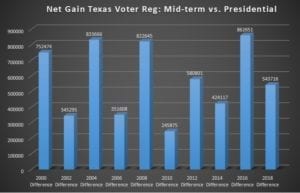 Like the data above, this shows the difference between voters registered during Primary season to the General Election. 2018 is clearly historic for a Mid-Term in this measure… just shy of the gains made during the 2012 Presidential Election.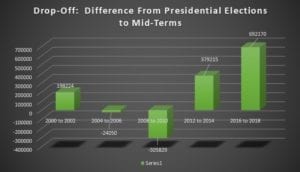 In previous years, Texas has even seen the number of registered voters drop off significantly from the Presidential voting year to Mid-Terms. But 2018 looks to show an impressive gain from the 2016 count… nearly double that of the difference between 2012 and 2014.
But we've seen something similar before…
In 2014, Texas voter registration also surged to historic levels for a mid-term election, but then also ended with shockingly low turnout at the polls.  For leaders in the Democratic campaigns and in Battleground Texas, it was a tough lesson to learn.
So is an even more impressive number of registrants another sign of true change across the state?  Was the last minute surge due to the Kavanaugh hearings, the "Taylor Swift effect", or some strange combination of both?
Regardless of the particular question, the answer is still the same.  Don't wonder about it… WORK FOR IT.  The time is NOW to Block Walk, phone bank, talk to your friends and family, and even people you don't know and share with them how critically important this election will be. Let's get these voters turned out, and bring the new Texas to bear!!