So it's an off, off year election with no President or Governor to be found on the ballot.  But so far, turnout for the 2015 Houston Municipal Elections is up.  Here's KHOU with the details…
After one week of early voting, 61,008 people have already gone to the polls in Harris County. When you combine that with the 21,141 who have mailed in ballots, the county's total early vote amounts to 82,149 with Election Day still more than a week away.

"It's very clear that what we're seeing is an uptick in turnout," said Bob Stein, the Rice University political scientist and KHOU political analyst.

Given the high early vote, Stein predicts the total turnout for Houston's city elections could reach 220,000 to 240,000 voters — a dramatic increase from the roughly 180,000 voters who cast ballots in 2009 when the city last elected a new mayor.
It is generally good news to have turnout increase for any election situation.  But the overall picture for early voting only tells part of the story.  When broken down by age group, turnout is expanding rapidly among older voters in Houston, while younger voters are all but absent from the polls.
And the phrase "all but absent" is not hyperbole.  Early Vote totals, broken into age groups by fellow blogger Erik Vidor, reveal the sad truth.  From October 19th through 25th, the first complete week of Early Voting, 56 percent of those that turned out to the polls were aged 65 and over, while just 1 percent were ages 18-24. And even when you add in the next age group of persons 25 to 34, you still only reach 5 percent of the total votes cast!!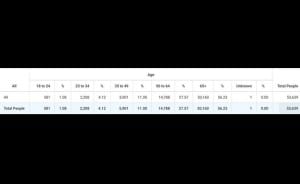 (photo credit:  Erik Vidor via Facebook)
Umm, Houston's young voters… where are you???
This is a national problem.  In a country where Millennials now outnumber Baby-Boomers, why have our nation's youngest adults decided to let the older folks make critical decisions for them??
The answer most Millennials give?  They're just too busy to vote.  Here's how the Huffington Post summarized some data from 2014…
Young voters are more likely to say they are too busy to vote than the general population, an analysis by the Center for Information and Research on Civic Learning & Engagement (CIRCLE) at Tufts University finds.

According to CIRCLE, 33.5 percent of young voters who were registered said their schedules conflicted with their ability to vote in 2010, compared to 25.2 percent of voters above the age of 30.

Only 5.8 percent of young voters, defined as those ages 18 to 29, said they didn't cast a ballot simply because they didn't like the candidates, and only 2.1 percent said transportation problems stopped them from voting. About one in ten 18-29 year-olds said they simply forgot to vote.
NEWSFLASH fellow Millennials… these excuses are C-R-A-P.  If one has the time to stare at  Snapchat or Yik Yak for 15 minutes without noticing anything beyond the phone screen, they have time to vote.
Texas got a major dose of voter apathy in 2014. Sadly, the alarming trends of young people simply not caring to vote for anything or anyone continue.  But one has to wonder why this generation has become so removed from the institution of government.  Beyond ridiculous, this is now kind of scary.
Please do your part, and get to the polls for Early Voting or Election Day.  If you don't know about the candidates, look them up or ask someone who is informed.  Don't be part of the problem!!