As many working adults in the city of Houston prepared for a lovely and well-earned weekend, one Deputy in the Harris County Sheriff's Department left his family and hit the streets to keep all of us safe.
But sadly for Deputy Darren Goforth, he would never return home.  As NBC News reports, the officer was tragically slain Friday night not in a dangerous crime scene, but simply while pumping gas in his uniform…
Hundreds of people showed up at a Texas gas station Saturday to pay tribute to a sheriff's deputy who was gunned down from behind after filling up his patrol car the night before.

Many who attended the vigil for Harris County sheriff's deputy Darren H. Goforth said they were there to support the police, and some said they were frustrated with the "black lives matter" movement and what they said was an increased hostility against all police.

Those who knew Goforth said he was "just a really nice guy."

"It's not fair," said Simone Langland, whose family were friends with Goforth's. "When we were younger and we were home alone, he would always drive by just to make sure we were OK," she said through tears.

Goforth, 47, a father of two, was ambushed by a gunman who shot him from behind at the gas station at around 8:20 p.m. (9:20 p.m. ET) Friday, police said. The gunman then shot the 10-year veteran again as he was on the ground.

On Saturday, suspect Shannon Miles, 30, was arrested and charged with capital murder. A motive has not been determined. Miles is black. Goforth is white.
As stated above, the killing left the Houston Area, the whole state of Texas and many across the country in complete shock.  No one deserves what happened to officer Goforth, and the killer, now in custody stands to face the full weight of the justice system for what he has (allegedly) done.
At this point, no one really knows why the killer did what he did. Whether this murder was racially-motivated, violence directed at the police, a combination of the two or neither, no one can say.  But no matter the motivation, it was heinous and wrong.  Texas Leftist sends prayers to the officer's family, the Harris County Sheriff's Department, and all those affected by this tragedy.  Texas Leftist also continues to support all of our local law enforcement and the great work that they do every day to keep us safe.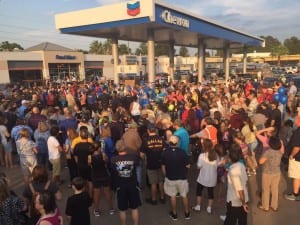 photo credit:  Tim Wetzel on Twitter