The Texas Progressive Alliance is dusting off its recipes for wassail and figgy pudding as it brings you this week's roundup.
Off the Kuff says that the actual election results do not support exit polls that claim Greg Abbott received 44% of the Latino vote.
Libby Shaw writing for Texas Kaos and Daily Kos is not the least bit surprised to learn that two Texas Regulators Get Fired for Doing Their Jobs.
CouldBeTrue of South Texas Chisme is calling for Nora Longoria to resign. How can she be a judge when she got very special treatment?
The Bible verses that contain the words "the poor will be with you always" do not mean what Rick Perry thinks they mean, says PDiddie at Brains and Eggs. And not what many other Christians think they mean, either.
============================
And here are some posts of interest from other Texas blogs.
Texans Together considers the way forward on campaign finance reform.
Candice Bernd feels railroaded by the Railroad Commission in Denton.
The TSTA Blog reminds us that education is only a priority if it is funded like one.
Natalie San Luis offers a lesson in how not to do PR.
SciGuy laments the budget cuts that will make it that much harder to get to Mars.
The Lunch Tray explains what the "cromnibus" spending bill means for school lunches.
Concerned Citizens bemoans the process that San Antonio's City Council followed in passing restrictive regulations on transit network companies.
Honorary Texan The Slacktivist chides Rick Perry for his deep ignorance of what the Bible actually says.
Wishing all who celebrate a very Happy Hanukkah!!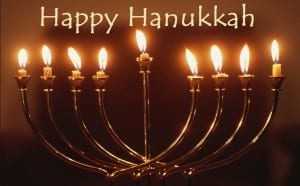 (PEC Lights Display in Johnson City, Texas.  Photo Credit:  Dave Wilson on Flickr)
—