The Texas Progressive Alliance is all about springing forward as it brings you this week's roundup.
Off the Kuff sadly reminds a fifth-generation Republican who doesn't want to lose her Obamacare insurance subsidies that Greg Abbott doesn't care about her at all.
Libby Shaw writing for Texas Kaos and contributing to Daily Kos heard the President give one of the most memorable and moving speeches of our lifetimes.
From WCNews at Eye on Williamson. GOP Lt. Gov. Dan Patrick wants to bust the spending cap, without having to pay, politically, for busting the spending cap, GOP Wants To Change The Rules In The Middle Of The Game.
"What the BLEEP happened to hip-hop?" asked PDiddie at Brains and Eggs.
Texas ranks 43 in the US as a place to live for children. That's what happens when Republicans run the place. CouldBeTrue of South Texas Chisme says pro-life is just another way to say 'I've got mine, who gives a rats behind about you!"
=====================
And here are some posts of interest from other Texas blogs.
Grits for Breakfast applauds Ted Cruz's flop-flop on marijuana.
The Rivard Report documents the crowded ballot that awaits San Antonio voters this May.
Randy Bear does the same for the charter amendments, and worries about trying to make changes in a low-turnout context.
The Lunch Tray would be happy to have celebrities market vegetables to kids.
Paradise In Hell declares that the real threat to marriage in Texas is serial heterosexuals.
BOR highlights the 2014 Texas League of Conservation Voters National Environmental Scorecard.
Better Texas Blog puts Texas' Medicaid spending in context.
Texas Clean Air Matters echoes the US military's call to diversify our energy options and shift more toward a clean energy economy.
Nonsequiteuse calls on Free Press Summerfest acts to speak up about R Kelly being in the lineup.
Texas Vox reports on lobbying efforts to preserve local control.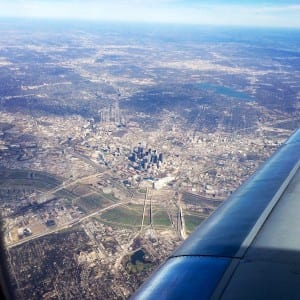 (Today's feature photo is an aerial shot over Dallas, Texas.  Taken by L. Wayne Ashley)