The Texas Progressive Alliance prefers tote bags for its deplorables as it brings you this week's roundup.
Off the Kuff encourages you to read the Houston Chronicle's story about how special education services have been systematically denied to Texas families.
Libby Shaw at Daily Kos is not in the least bit surprised to know TX Governor Greg Abbott threw his hat into the ring with the The Grand Wizard of Birtherism.
On Sept. 11, Socratic Gadfly looked back at 9/11 and reminded readers of many repeated, recurring causes of death that kill almost as quickly as 9/11, some with political connections, that still don't get truly addressed.
CouldBeTrue of South Texas Chisme blames Republicans for playing mean political games instead of addressing real problems like the spread of the Zika virus. Cruel like Texas Republicans denying services to disabled children
Political polling wizard Nate Silver tells Democrats they can start to panic this week, as passed along by PDiddie at Brains and Eggs.
Neil at All People Have Value took the Harris County Volunteer Deputy Voter Registrar class this past week. It takes a long time to really be able to register anybody after you take the class because the Republicans who run the county don't want you to register anybody. APHV is part of NeilAquino.com.
The gap between the lived experiences of White Americans and Americans of color is significant. With this in mind,Texas Leftist offers a viewpoint on and justification for Black Lives Matter. Most that have lived the experience of being unlawfully detained (or worse) by police see the movement as not only valid, but necessary.
===============
And here are some posts of interest from other Texas blogs.
Better Texas Blog has a bit of good news in the fight against food insecurity.
The Lunch Tray packs up six years of lunch packing advice.
Grits for Breakfast interviews Rebecca Bernhardt, executive director of Texas Fair Defense Project, which is one of the plaintiffs suing Harris County over its bail practices.
Streetsblog wonders why TxDOT doesn't believe its own data that show Texans are driving less per day on average than they were a decade ago.
Eileen Smith has a few questions about those charitable Trump portraits.
The TSTA Blog sounds the warning about school vouchers again.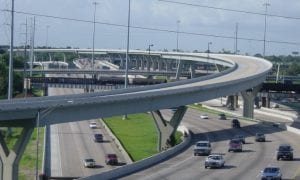 (photo credit:  TexasFreeway.com)