In recent years, the month of June has often meant big news out of the Supreme Court, and June 2015 is likely to be no exception.  Any day now, it is quite possible that the issue of Marriage Equality could be settled once and for all by the Federal Government.
But just because an historic ruling could be handed down in Washington doesn't mean that the dust will settle in states or counties any time soon.  As Dianna Wray of the Houston Press reports, Texas' largest county is still far from making same-sex marriages a reality, even if they suddenly become the law of the land…
The U.S. Supreme Court is due to hand down its decision on same-sex marriage this month. Depending on how the court rules, county clerks across the country could see countless gay couples lining up to apply for their marriage certificates. However, if same-sex couples show up to the offices of Harris County Clerk Stan Stanart, it looks like they might have some trouble submitting their applications via the current state-issued application forms.

[…]

…should the Supremes rule in favor of gay marriage this month – and the fact that Justice Anthony Kennedy, the resident swing vote on the court, has written virtually every opinion the court has issued on gay rights in the past decade, and has voted in favor of gay rights consistently, implies that the court will find in favor of same-sex marriage – couples who wish to apply in Harris County will still have the flimsy but challenging conundrum of a paperwork problem standing between them and that marriage license.

[…]

While the county clerks in Travis and Bexar have publicly stated that they'll deal with the marriage application form problem by simply rewriting the form so that it won't be limited to a male and female couple, Stanart has no intentions of changing the form or doing anything to rush in and start letting gay couples get hitched as soon as the probably-favorable SCOTUS ruling is issued. It seems that even altering a couple of lines on the application form is way too close to supporting gay marriage. "Right now we're following the current law and we'll see what happens [with the U.S. Supreme Court], and then we'll see what guidance the state attorney general gives us, which direction he wants to go," Stanart says.
Having already issued the state's first same-sex marriage license earlier this year, Travis County seems a sure bet for Texas couples seeking to wed if the state ban is struck down, with Bexar County not far behind.
While it is true that Harris County is far from alone in this "wait and see" approach, it's also true that the state's most populous county will face more pressure to evolve than some of its peers.  The LGBT community in Houston, with its strong political ties and rich history of activism, is not likely to accept a "de facto stay" of the ruling from the County Clerk's office.
In any event, this is one issue that is definitely worth watching.
Off the Kuff has more.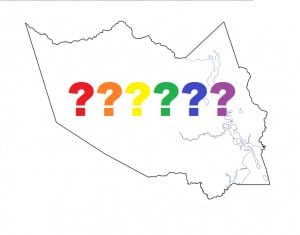 UPDATE:  While Harris County Clerk Stan Stanart has not changed his position on marriage equality (cough FAIL cough) , Dallas County Clerk John Warren wants his offices to be ready for the expected SCOTUS decision.  Here's more from John Wright of the Texas Observer…
The Dallas County clerk now says he'll issue licenses to gay and lesbian couples if the U.S. Supreme Court rules in favor of same-sex marriage later this month.

Previously, Democratic Clerk John Warren told the Observer he was concerned about modifying marriage license application forms, which are generated by the state and say "male" and "female." Warren wrote in an email Wednesday that he contacted the Texas Department of State Health Services about the forms last week, but had not heard back, so he came up with an alternative strategy in consultation with the Dallas County DA's office.

"When the Supreme Court issues its opinion, I will immediately meet with counsel to make sure we understand the opinion," Warren said. "Since I feel that it will [be] in the positive, I will be ready to issue license[s]. I've already sent a briefing over to our commissioner's court regarding overtime pay for my staff as well as addressed the need to have security not lock the building at its normal 5:00/5:30 scheduled time."

Warren, who came out in support of same-sex marriage in 2013, added that he's asked a manager to survey staff on their ability to work extended hours.
This is great news indeed.  So while Houston same-sex couples may still face discrimination in their home County, at least they know they can add Dallas to the list of places with open minds and open doors on marriage equality.
Enjoy all of those extra tourism and wedding dollars headed your way!!
Oh yes… time to update the map