After months of intense preparation, debate and prayer, the big moment for Kentucky Senator Rand Paul has finally arrived.  Via the New York Times, he now joins the hunt for the White House…
LOUISVILLE, Ky. — Senator Rand Paul of Kentucky declared himself a candidate for the Republican nomination for president on Tuesday, aiming to upset the political order in Washington and disprove those in his own party who doubt that a fiercely libertarian conservative can be a serious contender.

"I am running for president to return our country to the principles of liberty and limited government," Mr. Paul wrote in a post on his website on Tuesday.

[…]

Mr. Paul, 52, becomes the second Republican to enter the 2016 campaign, following his colleague in the Senate, Ted Cruz of Texas.

It will not remain a small field for long. Senator Marco Rubio, Republican of Florida, is expected to announce his candidacy next week. Also waiting in the wings are Gov. Scott Walker of Wisconsin and Jeb Bush, the former Florida governor, who are expected to declare soon, rounding out what Republicans say is perhaps their most competitive and robust slate of candidates since 1980, when Ronald Reagan faced competition from party heavyweights like George Bush and Howard Baker.
Carrying the torch from his father Ron Paul, son Rand is sure to stir up a lot of passion and dedication, especially from younger Libertarians (who have been noticeably absent from Party politics in recent years).  But if Rand Paul is to be successful in his quest for the Presidency, he has a much bigger task to accomplish than his forbears.  He must challenge GOP conventions enough the next generation of voters will stick with him, yet somehow appeal enough to the mainstream to run a credible race.
On this magnanimous goal, Paul isn't exactly off to a great start.  For one thing, if a founding principles for his campaign is to limit wasteful spending, then why would he want supporters to waste $1000.00 of their hard-earned money on a signed pocket copy of the US Constitution??  Bit of an oxymoron there.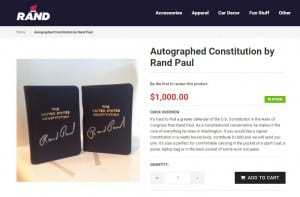 For Liberals, the news of Rand Paul's race is more of a wait and see proposition.  He may not end up with many Left-leaning votes, but his opinions on issues like Criminal Justice Reform will certainly get noticed over the next several months.   For good or ill, Rand Paul will be sticking around for a while.  But it's up to the GOP to determine just how far he can go.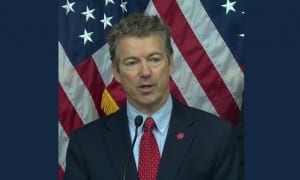 (Photo credit:  Rand Paul youtube video)