They may be just four little words, but saying them can make all the difference in the world… especially if you're Hillary Rodham Clinton.
Some in American politics have been waiting to hear these words from former Senator, Former First Lady, Former Secretary of State Hillary Clinton since she suspended her campaign for the Presidency in 2008.  Throngs of activists whom championed her cause across the country, and then begrudgingly voted for Clinton's main rival of that fateful year.  While it's true that their votes made history in 2008, it wasn't the history that many of them would have preferred.
But today, as the Arkansas Democrat-Gazette reports (via AP), dreams for yet another historical election are deferred no longer, as the storied politician gave the nation those four pivotal words today… "I'm running for President"…
WASHINGTON — Hillary Rodham Clinton jumped back into presidential politics on Sunday, announcing her much-awaited second campaign for the White House. "Everyday Americans need a champion. I want to be that champion," she said.

As she did in 2007, Clinton began her campaign for the 2016 Democratic nomination with a video. But rather than follow it with a splashy rally, she instead plans to head to the early-voting states of Iowa and New Hampshire, looking to connect with voters directly at coffee shops, day care centers and some private homes.

"So I'm hitting the road to earn your vote. Because it's your time. And I hope you'll join me on this journey," Clinton said at the end of a video, which features a series of men, women and children describing their aspirations.

This voter-centric approach was picked with a purpose, to show that Clinton is not taking the nomination for granted. Only after about a month of such events will Clinton will give a broader speech outlining more specifics about her rationale for running.

The former secretary of state, senator and first lady enters the race in a strong position to succeed her rival from the 2008 campaign, President Barack Obama.
As the front-runner, Clinton now faces a long and arduous road until election night.  But today's low-key roll out indicates that she and her apparatus are ready for the challenge.  As the Republicans fight it out with copious debates and struggle to raise a national profile, Clinton has the benefit of dominating the national consciousness.  It's both a blessing and a curse though, as she also has no healthy competition to help sharpen her political skills towards the General Election.  Hopefully there are at least a few brave national Democrats out there willing to vie with Clinton on the coming debate stage.
With her announcement, the organization Hillary for America is also born. This is by far the biggest difference for Clinton's second go-round.  In 2008 she had to work against the tech savvy behemoth that was Obama for America.  In 2015 and 2016, that group and it's winning strategy now belongs to her.  This will likely prove to be the greatest challenge for any Republican seeking to upend Clinton's hopes for the White House.
What lies ahead in the next 18 months is anyone's guess at this point.  But for today, all eyes in United States politics focus on Hillary Clinton.
Watch her campaign video below…
And get to know this 'H', as you'll be seeing it for a while…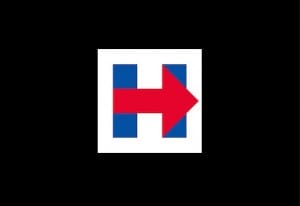 (Photo Credit:  Hillary Clinton Facebook page)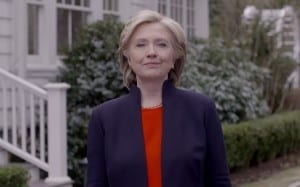 (Photo Credit: screenshot from the Hillary Clinton campaign video)