As noted in a previous post, Houston transit ridership has been experiencing some significant growth over the past year. More residents of the Bayou City have discovered the Mass Transit system, and are using bus services throughout the city. As transit usage grows, so too does the expectation of safe, predictable and reliable service.
The Metropolitan Transit Authority of Harris County (abbreviated at METRO) has been working to address these higher expectations. Just last April, the agency unveiled the METRO T.R.I.P. app… a smart phone app that locates nearby transit routes, matches GPS technology in the smart phone and links it to GPS technology on the busses, and thus provides real- time arrival information for the next bus or train. As a result, this app potentially gives users more flexibility over their schedule, as they will know when to catch busses down to the minute. When working properly, the T.R.I.P. app represents a significant, potentially transformational upgrade in Houston's transit operation.
But any frequent user of the T.R.I.P. app can attest that it sometimes doesn't work. I've used the app on several occasions where it says a bus is due, and the bus doesn't show up for another 10 or even 20 minutes. This leads many to wonder if METRO's busses and trains are all outfitted with the proper GPS technology. I decided to test the app over the course of a full week, using the METRO rail, and bus routes 42, 68, 81 and 82.
First up were the 42 and 68 routes. Out of 20 total tests, the T.R.I.P. app successfully predicted bus arrivals 16 times, down to the minute. Both busses that seemed to be lacking the GPS technology were on the 42 route… all 68 busses were located. The 81 and 82 route was even more successful. Out of 20 total tests on that route, the T.R.I.P. worked properly 90 percent of the time, missing only 2 out of 20 busses. METRO rail however was a different matter. Out of 20 tests, the T.R.I.P. had 0 successful predictions for train times. No real-time information was even available. With the busses, it's also important to note that these 4 routes are not necessarily a good indicator of service-wide accuracy, but meant to serve as a sample.
Given this result I decided to ask METRO to provide some answers. Can Houstonians reliably use the T.R.I.P. app?? Here's the response…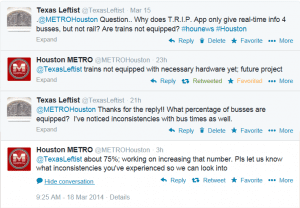 So at this point, real-time arrival information isn't available for all busses, and isn't really helpful for train times. But nonetheless, it's an important first step toward improving mass transit in Houston and providing commuters with alternative options to their cars. Hopefully they will work to get busses to 100 percent soon. If you are a frequent bus rider, try out the T.R.I.P. app and see how well it works for you.