For those of us alive in 2001, September 11th is a day that few Americans will probably ever forget. I'm someone that misplaces my keys and phone on a regular basis, but the events of 9/11 are still crystal clear in my mind. In the span of a few short hours, our country would never be the same.
Houston is over a thousand miles away from Shanksville, Washington or New York City, but some University of Houston students took it upon themselves to create a special 9/11 memorial for the campus. Here's more from Laura Gillespie of the Daily Cougar…
"Back in 2009, the president at the time was Kenneth Fomunung. A student came up to him from the Student Video Network and said, 'Hey, I heard we can get a piece of the World Trade Center. I heard that they're giving them out to different organizations and things of that nature. You should look in to it,'" said SGA President Cedric Bandoh.
"Long story short, they applied for a piece in the New Jersey Port Authority, and after going through a series of paperwork and other things, they got the assistance of the then-vice president of Student Affairs, Dr. Elwyn Lee. And we were eventually approved for a piece of the World Trade Center, which was very, very exciting news."
The artifact, a large piece of steel that was broken off during the September 11 attacks, will be raised and lighted and turned into a memorial at the New UC.
"The Student Government Association really led the effort. They wanted to have it as a site of history, of the country, and also they wanted it to take place adjacent to a large student traffic area so that it's just a memorial of sorts that represents the history of our country," said Associate Vice President for Student Affairs Keith Kowalka.
In the midst of a rapidly changing campus, it's welcomed news that UH students took the initiative to honor such an important event in our history. Sounds like this will be worth a visit.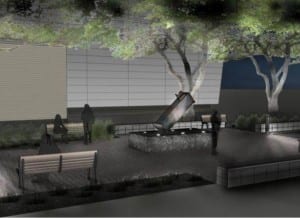 (photo credit: Keith Kowalka)