As a singer, I can confess that it's an honor to sing the National Anthem at any public event. But imagine having to get up and sing on camera, at the NBA Finals in front of Tens of Millions of viewers? The pressure of that situation is enough most adult professional singers, much less anyone born in the 21st century. But 11 year-old Sebastien De La Cruz not only sang the song, he did it about as well as anyone has ever heard… twice in one week. No wonder he's been given the name El Charro de Oro.
Despite some idiotic racist tweets after his first, little Sebastien was asked back by the Spurs to again take the international spotlight, and once again he gave the crowd a slam dunk.
For those that see fit to pick on an 11-yr old is disgraceful. But here's the missing part of the story… the hatred is simply a cover-up for fear. Kids like Sebastien are the new face of America, as we become a more diverse, less Anglo nation. Hopefully the hate will die away, and more people can learn to accept, even embrace the changing US population. Either way, it's going to happen. As for Sebastien's response to all the hateful tweets??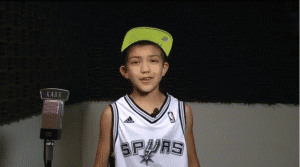 Another slam dunk. I'll be looking for more from this talented young Texan!!