When we talk about politics, it often becomes wrapped up in numbers… the number of voters, polling percentages, how many calls you can make per hour to support your candidate. It's really all about numbers. It's also really all about the MAJORITY. After all, in an election, that's what you're trying to win, right? The majority gets you in office, or it gets your measure passed. Or in the case of today's political atmosphere… that new law or that candidate can translate to more money lining your pocket.
To contrast, our nation's courts system is almost, always about the minority. When you're a defendant against the State of Texas, or the city of Dallas, you are taking on the majority of us in court. You're DEFINITELY a minority in every sense of the word then… it's you versus hundreds, thousands or even millions of people. Often times in the case of Civil Rights, those laws and precedents are advanced and protected not by the majority granting them through referendum or legislation, but by the interpolation of court cases. After all, we live in a nation where millions of our citizens used to be "separate, but equal". The only reason that our school system cannot discriminate on basis of race is because of a court case.
By it's inherent nature, the idea of "Voter Suppression" is really a tough sell. After all, the majority of us already have a photo ID? We show it to buy alcohol, to get in to government buildings, to go to the club. Honestly, we take it for granted. It's just a very simple, commonplace and neglected thing in our lives. It's perfectly reasonable to ask this of someone when the majority of us already lives that way, right?
But all Americans aren't in this majority. Some live under very different circumstances. Take Sanderson, TX for example… the site where the now infamous movie No Country for Old Men was filmed. The Texas Tribune released an interactive map showing the location of all of the state's current DPS locations, including ones that are currently closed due to budget constraints or low performance. If you live in Sanderson, you are 84.4 miles away from the nearest DPS office. That means if you happen to not have a voting ID, you have to make a 170 mile round-trip if you want to vote under the new Texas rules. It's sufficient to say, that trip would be a deterrent to voting on November 6th.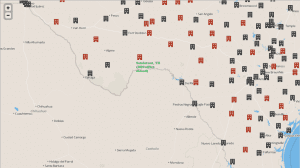 Even in urban communities, the challenges to get something as simple as a photo ID can be almost as great. For citizens that don't have a car or are home-bound, the bus trip in Houston proper could be well over 2 hours to get to their closest DPS office. The state insists on implementing the new laws, but there is no mention of extended hours for these offices, assistance to help people obtain the proper ID, or an education campaign to let voters know of the changes.
If the intention behind a Voter ID law were true, no one is doing anything at the state level to acutally ENCOURAGE disenfranchised voters to register and vote. We live in the 21st century after all… It's possible to have a motor-voter ID van. Go to the elderly's homes and make the photo ID for them on the spot. Take the motor ID vehicle to Sanderson and work with your citizens to comply with the new laws. At the very least extend DPS office hours so that more citizens can actually get to the locations without missing work. But the problem in Texas? No one is talking about these possible solutions. They just want to make sure this law takes effect before November so Barack Obama will be defeated.
Before we know it, Texas truly will be No Country for Voting Men or Women. That's why in the case of voting rights, I applaud the Obama administration for sticking up for all of those in Sanderson, Houston, and everywhere else that don't have the money and power to speak for themselves. This is a free country, but it won't remain free without a fight.